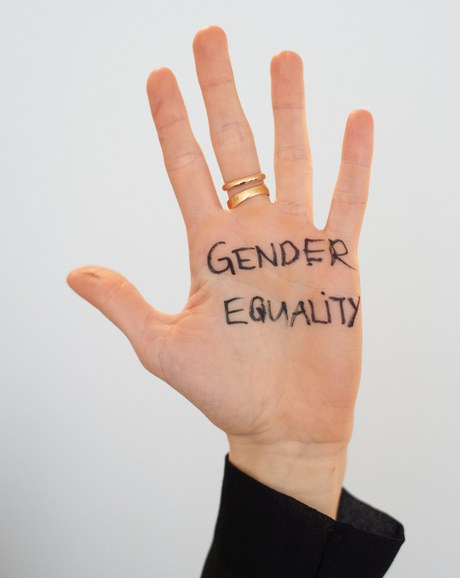 Jeunes
Maximina Jokonya on the importance of gender-based interventions and the inclusion of men and boys in programming
aidsfocus.ch - In Sub-Saharan Africa, young women and girls have a much higher risk of being infected with HIV. Societal norms of gender relations and poverty leave girls and young women more vulnerable to the HI virus. Maximina told us about the situations and challenges many girls and young women in Zimbabwe are facing, but also about the importance of including men and boys in those interventions.

Michelle: A lot of young women and girls are affected by HIV, and 80 percent of those live in sub-Saharan Africa. Why are they proportionally more affected by HIV compared to men?
Maximina: The first thing that you need to know is that adolescent girls and young women don't have a voice when it comes to making choices. Another thing that affects us as young women and adolescent girls is that often we are orphaned, we don't have anyone to support us to go to school. We don't have anyone who is looking up after us, and who is looking that we proceed with our school. And by being in this situation, poverty actually comes within our household, you know. Sometimes we have look after our own siblings and I am the one that has to go looking for food, so by doing that I may end up doing some things that are risky.
"Girls and young women don't have a voice."
I end up being in a relationship with an older man in order for me to have some money. Because I need to look after my siblings and I have to send them to school. So that's the risk that we are at as young women, we don't have a voice. And if I am going in that intergenerational relationship, I don't have a voice to say: "Let's use a condom." Because that older man has power over me. I just do what he says and I get my money. That's the issue.
So I think poverty is affecting us as adolescent girls and young women.
Sometimes also the services available, they are judging as well. If you are an adolescent girl, and you want to go to a hospital or a health service provider and want to access family planning or sexual and reproductive information or anything like that, we tend to get judged. They would say: "You are a young person, why do you need these services? Why do you want to be in a sexual relationship?"  So I end up not going to a health facility to access services. I end up indulging into sex, probably without even protecting myself, thereby I am being infected.
"So we can talk about gender-based violence, we can talk about, you know, masculinity; a population having a more of a voice than us as young women."
We can also talk of gender-based violence. Those are cultural things that are happening in the society as well. You know, women tend to be abused and they tend to be quiet about it. Because they tend to say: "It is normal. You know, I am looking after my children… it is normal." So they don't have a voice. Even when they want to go to the hospital to access some of the services, often they are no longer able to.
The man goes out, comes back with HIV and gives it to the women who has been waiting for him, looking after the children, doing everything. So we can talk about gender-based violence, we can talk about, you know, masculinity; a population having a more of a voice than us as young women.
We can talk about cultural norms as well. As women, we are always looked down upon, we don't have a voice, and we can't say anything about it. So those are some of the issues we can talk about when it comes women or adolescents being at a higher risk of being HIV-positive.
Involve men and boys
Michelle: Ok, so, how do you think can the mindsets of young and also of older men towards first, sexuality but also towards respect for women, be changed?
Maximina: Well what we've been doing when we started these strategies, is that we've been leaving these young men and boys behind. I think we need to involve them, as much as we can. In each and every program that we might have, even if it is for women, let's save a portion for men, so that they understand that we give them information as well.
You know, when you give someone information, their perceptions and their views about what they do in life are changed. They see the pros, they see the cons. Why is it bad to beat up a woman? They need to see the statistics that are currently there, to understand that women are more infected. And they need to ask themselves: why is it like that? They need to change their own mindset as well. At the end of the day, they will end up not doing what they used to do, they will start to appreciate women, and they will start to put women first as well.
"we need to target what we call "rulers" or "gate-keepers" of the community"
We know that men are the decision makers. So if we leave them, our interventions as we go on, might not work. We may say: "test women, give women ARVs", but at the end of the day that woman is going to go back home. And taking those ARVs is going to be hard for her because her husband is inside the house. So women often tend to throw away those ARVs when they go back home, because they fear that the husband is going to find out that they have HIV, that they are taking these medications and that's the end of everything, you know.
So I would advise, let's involve men in every program. Let's give them the position of being appreciated. In each and every intervention, because sometimes they say: "Now you are doing more programs for women, so why are you leaving us behind?" So they will keep on doing what they have been doing.
And also, we need to target what we call "rulers" or "gate-keepers" of the community. Usually they are men. So if we target those community leaders, they are able to mobilize young men too.
At the end of the day, we are changing the mindsets, and we need to continue doing so and that is how we change the behavior of men as well.
So that's what I can advise at the moment.
During Maximina's stay in Basel, Michelle Lanwer of the Network Medicus Mundi Switzerland conducted an interview with the 25 year old Zimbabwean HIV activist Maximina Jokonya. She talked about her personal story, how programs need to suit the needs of adolescents and what she wishes donors and programmers would know. Listen to the additional interview here.