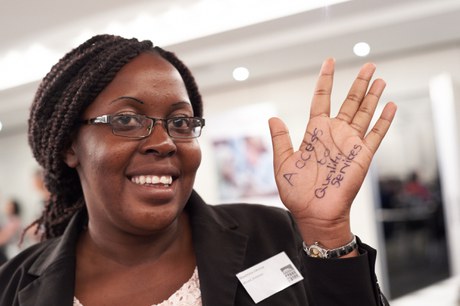 Jugendliche
World AIDS Day 2016: Listen to Maximina Jokonya's journey
Maximina Jokonya, a Zimbabwean HIV activist, born HIV positive, tells her personal journey and how treatment, love and respect changed her life to the better in 2006 when she commenced taking Antiretroviral Therapy (ART) at the Newlands Clinic supported by the Ruedi Lüthy Foundation.
Maximina Jokonya works for Africaid as a Zvandiri Mentor implementing the DREAMS project in Mutare District, Zimbabwe. The disease, her family, Africaid and her community have inspired her passion for working with adolescents and young women who are infected and affected by HIV. She encourages the adoption of interventions that eliminate stigma and discrimination. Through her desire to learn about HIV and find ways to help her community, she joined the University of Zimbabwe – University of California San Francisco (UZ-UCSF) Collaborative Research Programme in 2007 as a Community Advisory Board (CAB) member; she is also part of the Community Delegation to the Global Fund Board, supports the Women Deliver Young Leader Programme and is part of the IAS 2016 Global Village and Youth working group member amongst many other representations.


Maximina at the MMS Symposium 2016
Maximina was invited to speak at the annual MMS Symposium "Working in Fragile Contexts and Building up Resilient Health Systems - Why Do Community Systems Matter?"
At this occasion Michelle Lanwer interviewed Maximina on her personal journey, her experience in working with young people and how gender inequality, stigma and discrimination can be addressed.

Her story
Listen to Maximina's personal story here, and be amazed and inspired by her strength and commitment: [9:23min]


Her passion
Maximina on what has inspired her to work as an HIV-mentor and activist and on her passion to help and guide adolescents and young people through their reality of living with HIV [2:53min]:


Adolescents and young people
It is estimated that worldwide only three in 10 adolescent girls and young women between the ages of 15 and 24 years have comprehensive and correct knowledge about HIV. Yet they are the most affected population group when it comes to new infections. Listen to Maximina's explanation on why adolescents are so often left behind and how to close this prevention gap [5:00min]:
Girls and young women
In this section, Maximina talks about the specific situation of girls and women in Zimbabwe and the reasons why they are more vulnerable to HIV. She also talks about how the mindsets of men can be changed towards greater respect for women and sexuality in general [6:40min]:
Steps towards an AIDS-Free World
2.1 million people became newly infected with HIV in 2015. If we want to achieve the Agenda 2030 we must strengthen our prevention efforts and make sure that the people affected have access to HIV services. Here Maximina talks about the allocation of funds and how civil society and community based interventions need to team up with governments and higher institutions to make sure we leave no one behind [9:15min]:
Final message
Stigma and discrimination weaken the ability of individuals and communities to protect themselves from HIV and to stay healthy if they are living with the virus. Listen to Maximina's final message for the World AIDS Day 2016 and be inspired by her passion for people living with HIV and her drive for action [2:26min]: