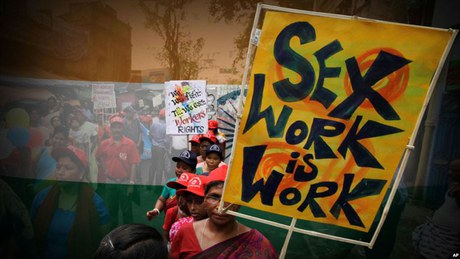 Travailleurs, travailleuses du sexe
Feature Story: HIV and sex workers
In the light of the upcoming aidsfocus.ch conference on 7 May 2015 in Bern on HIV/Aids in vulnerable groups I would like to draw the attention on the Lancet series on HIV and sex workers published in July 2014. Achieving an AIDS-free generation will not be possible unless the human rights of sex workers are recognized.
Across the globe, sex workers (female, male, transgender) are disproportionately affected by the HIV pandemic. The Lancet Special Theme Issue on HIV and Sex Workers addresses the issues of the high burden of HIV infections among this group and the limited access to prevention, treatment and care they face. The 7 papers of this series were launched at the AIDS Conference in Melbourne, Australia last July 2014.
Female sex workers are generally 13.5% more likely to acquire HIV compared to women of reproductive age of the general population. Factors such as criminalization, repressive policies, law enforcement strategies and violence put female sex workers at greater risk for HIV. Violence is pervasive in the lives of sex workers and at least half of the violence is propagated by law enforcement actors. Potential HIV infections could be averted through structural change such as a safer work environment, decriminalized sex work (rather than the legalizing), peer outreach, and sex worker-led interventions. Scaling up of community empowerment interventions and supportive work environments for sex workers seem to be more promising than focusing on traditional approaches which are more individually-oriented. Decriminalizing sex work would lead to safer working environments, fewer human rights violations and reduced police harassment and violence. The research gaps on sex work and HIV risk is inadequately addressed especially for male sex workers and transgender women. The lack of data but also the financial constraints to scale up interventions hinder the response in countries with high HIV infection rates such as Africa, Russia and Eastern Europe.
To reduce the burden of HIV among sex workers the Lancet papers postulate a holistic approach which includes better human rights for people who sell sex with adequate access to prevention, treatment and care, community empowerment where sex workers have a chance to participate in the design and implementation of programmes and better research.  (Photo: © Voice of America)
Aids conference Melbourne:  The Lancet Special Theme Issue on HIV and Sex Workers
HIV and sex workers 1: Global epidemiology of HIV among female sex workers: influence of structural determinants
HIV and sex workers 2: Combination HIV prevention for female sex workers: what is the evidence?
HIV and sex workers 3: A community empowerment approach to the HIV response among sex workers: effectiveness, challenges, and considerations for implementation and scale-up
HIV and sex workers 4: Human rights violations against sex workers: burden and effect on HIV
HIV and sex workers 5: Male sex workers: practices, contexts, and vulnerabilities for HIV acquisition and transmission
HIV and sex workers 6: HIV risk and preventive interventions in transgender women sex workers
HIV and sex workers 7: An action agenda for HIV and sex workers
Listen to De Capua report on HIV and sex workers
---