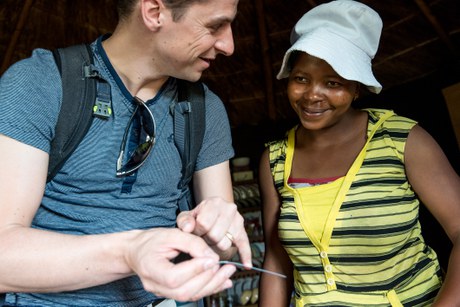 Traitement et soins
Lesotho: A research partnership seeks to put UNAIDS targets within reach - Interview with Niklaus Labhardt (Swiss TPH, SolidarMed)
UNAIDS has set ambitious targets for 2020: 90% of all people living with HIV will know their HIV status, 90% of all people diagnosed with HIV will have access to treatment, and 90% of the people receiving treatment will have suppressed the virus to an undetectable level. Using this 90-90-90 strategy, UNAIDS aims to end the HIV epidemic by 2030. This target can only be achieved through concentrated efforts.
A joint pilot project in Lesotho run by SolidarMed, the Swiss Tropical and Public Health Institute (Swiss TPH), the Department of Biomedicine at the University of Basel, and Lesotho's Ministry of Health is pursuing a promising approach. The project is led by the Basel-based research director, Dr Niklaus Labhardt (Swiss TPH, SolidarMed).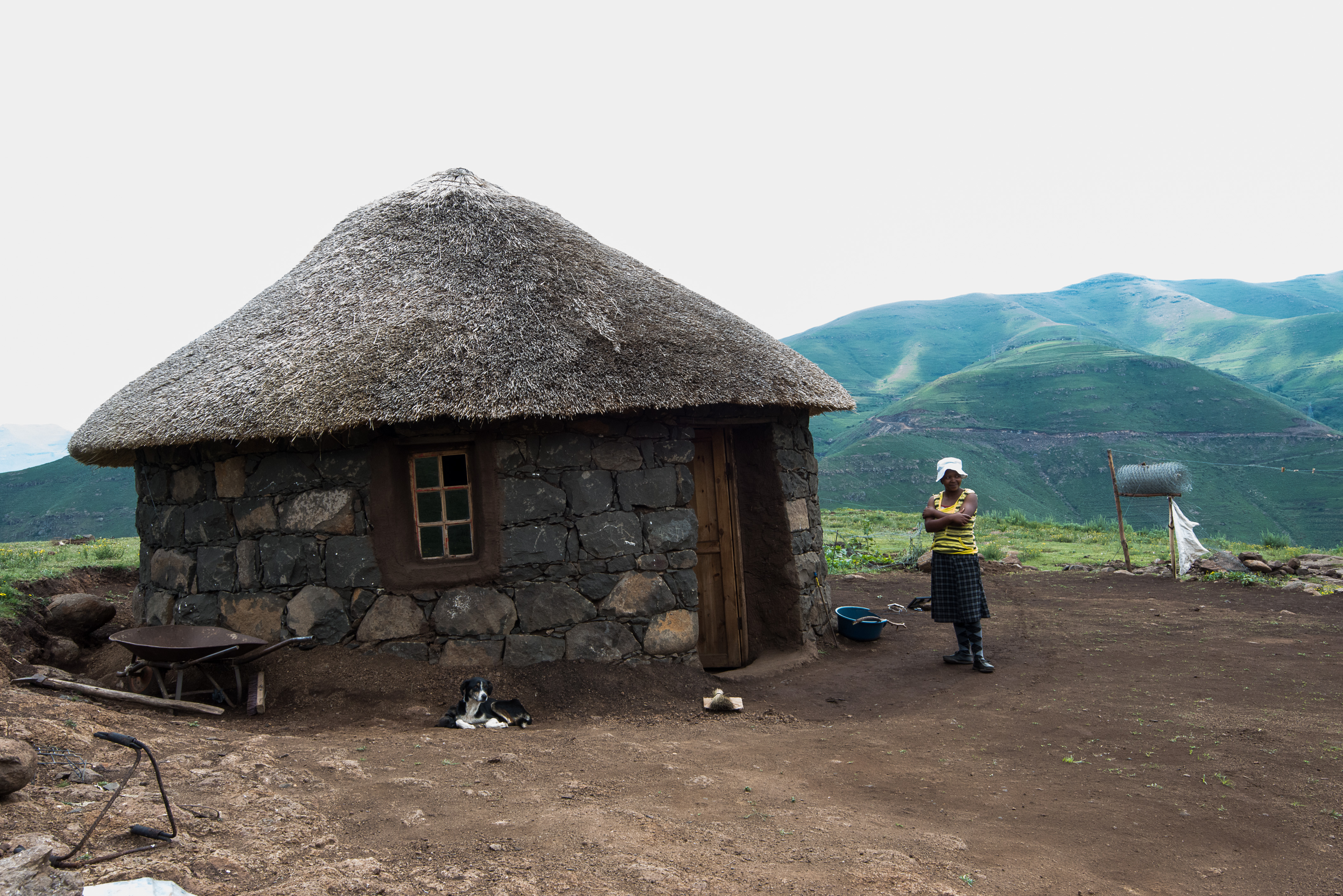 (Photo: Christian Heuss / Swiss TPH)

Read the interview with Dr med Niklaus Labhardt


Door-to-door testing – the first 90
Martina Staenke (MS): Mr Labhardt, as part of the UNAIDS Fast-Track campaign for combating HIV/AIDS with the 90-90-90 targets for 2020, SolidarMed and Swiss TPH, together with other research partners, have launched a very innovative project. What is it all about?
Niklaus Labhardt (NL): For an HIV programme to be successful, as many patients as possible have to successfully pass through all the stages of the so-called care cascade: HIV testing, linkage to subsequent care and therapy, continued monitored use of medication, subsequent check-ups to measure the concentration of the virus in the blood, etc. Unfortunately, patients are lost at every stage: People don't get tested and therefore don't receive treatment. Or people get tested but then don't start treatment, or interrupt therapy and so on.
Even now, there are hardly any studies that describe the entire cascade, let alone attempt to improve it. We want to change that. Firstly, we want to find out how we can get as many people as possible to take an HIV test. Secondly, we want to get patients who test positive for HIV to receive treatment directly and rapidly. And thirdly, we want to monitor the treatment success levels: We do this by measuring the viral load present in the patient's blood. Treatment is considered successful when it reduces the viral load to undetectable levels. This so-called suppressed viral load is one of the main aims of HIV treatment. People who achieved this target are no longer infectious for their sexual partners, even during unprotected sex, and are likely not to develop AIDS.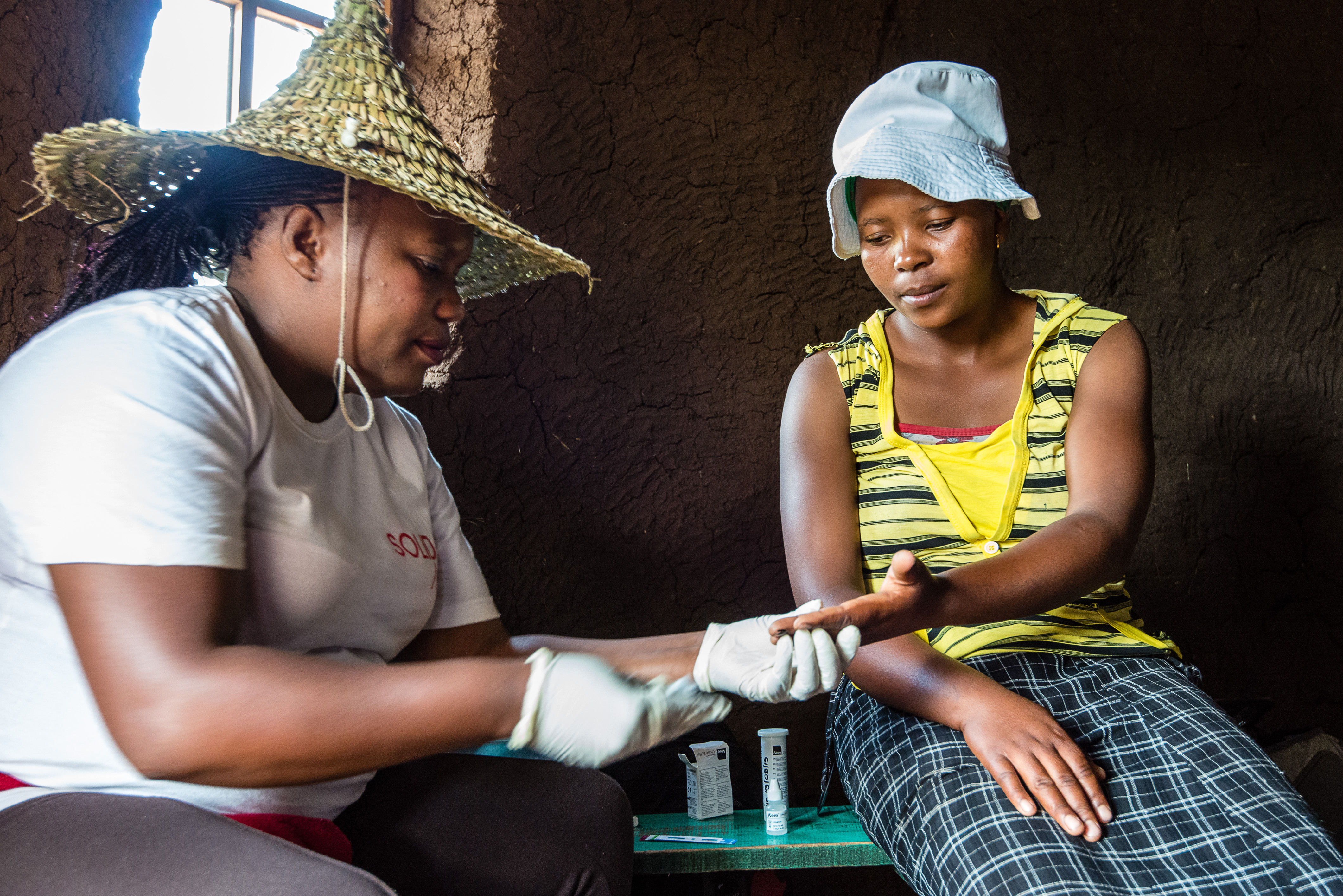 (Photo: Christian Heuss / Swiss TPH)
MS: What approach have you taken? What does the project look like in practice?
NL: We are trying to reach people in their homes. This enables us to reach the people who would not go to a clinic for a HIV test of their own accord. This way, we want to increase the number of HIV cases diagnosed and thereby start working towards the first 90 of the UNAIDS 90-90-90 strategy.
We are carrying out our project in the district of Butha-Buthe in Lesotho. Our teams each consist of five lay counsellors (non-medical staff members trained to carry out HIV tests), a qualified nurse with experience in treating HIV, and a driver. The team drives by car to villages which have been selected at random in advance. Once they arrive in the village, teams of two go systematically from door-to-door. After a short introduction, they document all the people in a household. As soon as the entire household is recorded on a specially developed tablet app, we offer a HIV test to those present. Once we have obtained written consent, we get started with the test: a prick of the finger, drops of blood on a small strip of paper, a 15 minute wait. The people who are tested know in advance that if two lines appear, then the test is positive. If one line appears, the result is negative. The whole testing procedure is very clear for the people being tested, as everything happens right in front of their eyes. It is not the case that blood is taken, which then disappears somewhere into a laboratory and at some point a note appears with the test result. Sometimes certain family members are absent, for example, the husband might be away working in South Africa. In this case, we come back for a second time at the weekend, so that we can hopefully test these people as well.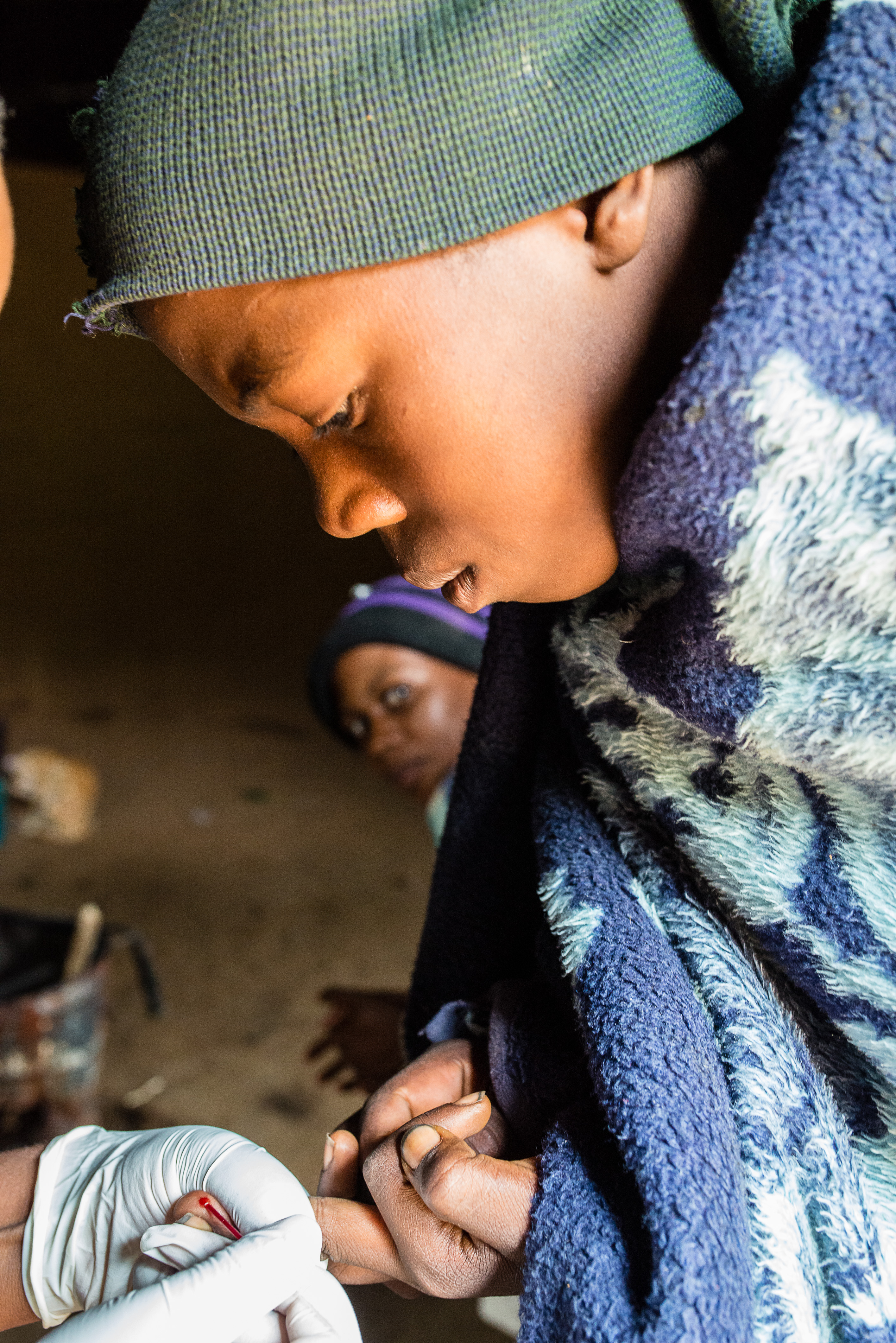 (Photo: Christian Heuss / Swiss TPH)
Linkage to care – the second 90
MS: What happens with the people who test positive?
NL: The people who test positive ought to receive HIV treatment as swiftly as possible. We call this 'linkage to care'. This is the real Achilles heel of the HIV treatment strategies used up till now. In most of the programmes in Southern Africa, significantly fewer than 50% of the people who test positive durint door-to-door HIV testing begin treatment. We want to address this in our project, as the 90-90-90 strategy aims to get 90% of people who test positive into treatment.
MS: Compared with conventional approaches, what are you doing differently in your project to improve this linkage to care?
NL: We know from experience that only one in four people who test positive in the traditional door-to-door campaigns actually begin treatment. This means that three in four remain untreated and therefore infectious to their sexual partners, and are likely to develop AIDS in the medium-term.
The main reason behind this low treatment rate is the sheer number of practical obstacles: If you consider that they live in a village in Lesotho, and someone tells them they are HIV positive and should go to the health centre which is around two and half hours walk away, it is clear from the start that this will be difficult. And if they do go, they spend the entire day waiting for the first counselling session (the pre-ART counselling), where they are informed they have to take one tablet each day over the course of the treatment. After being asked whether they are prepared to receive the treatment and being invited to a second counselling session, they are then sent home empty-handed. This means they have to motivate themselves all over again to miss a day's work in the fields or be absent from their job in order to go back to the clinic and receive the same counselling session again. If they are lucky, then the HIV adviser at the hospital will write 'Ready to start ART' in their health record after the second counselling session. Throughout this whole process, normally three in four HIV-positive people drop out, as they do not have the patience or the means to endure this ordeal.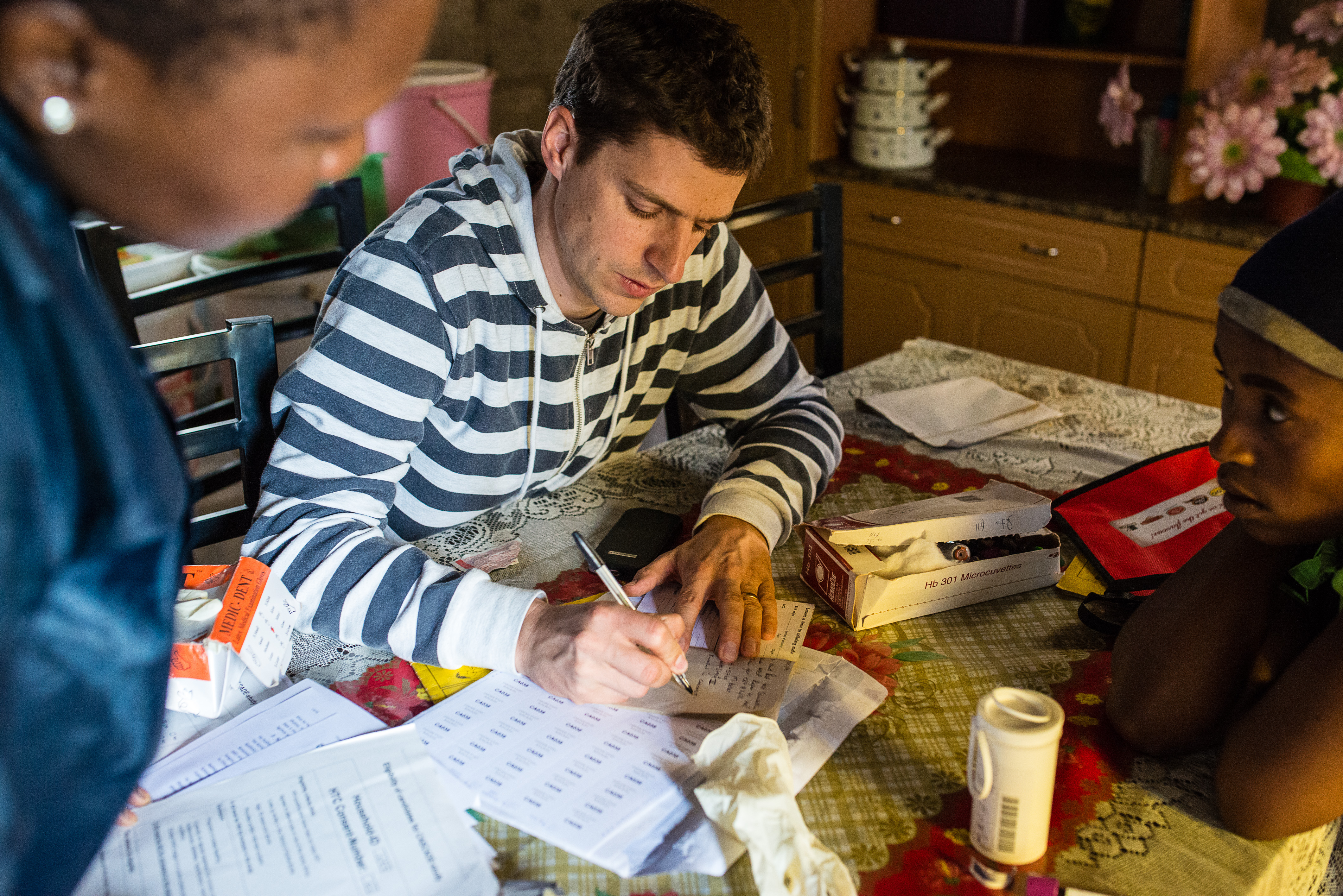 (Photo: Christian Heuss / Swiss TPH)
MS: What is currently being done better in your project?
In our study, we divide people who have just tested positive into two groups: One group goes for counselling in the conventional manner, and the other group, known as the intervention group, receives this information at home directly after the test. These patients are provided directly with the necessary medication for the first 30 days. Only thereafter they have for the first time to go to the clinic. Our first interim results show that with this intervention seven in ten people report to the clinic on schedule to pick up their next round of medications. In the comparison group receiving traditional pre-ART counselling, only around four in ten people go to the clinic at least once during the first three months. So our project demonstrates a definite improvement.

Measuring viral loads – the third 90
MS: The aim is not only to help people start treatment, but also to ensure that treatment is successful and that the medications suppress the virus. How often is the viral load measured?
NL: This is a major challenge. People have to go to the clinic to have their viral loads measured. In order to measure virus levels in blood, modern and sophisticated laboratory facilities are needed, which we simply do not have in many areas where resources are limited. The upkeep of these facilities is expensive as are the reagents. Although the diagnostics company has offered us attractive conditions, each test still costs around 15 USD. This becomes extremely expensive when scaled up for thousands of patients. For this reason, we do not measure the viral load as regularly as in Switzerland, for example. As a basic principle, measurements should be taken six and twelve months after starting therapy. If the viral load is suppressed, then an annual measurement is sufficient. The viral load results of our study are still pending. But we are keen to see whether starting treatment the same day will ultimately lead to regular medication intake and undetectable viral load.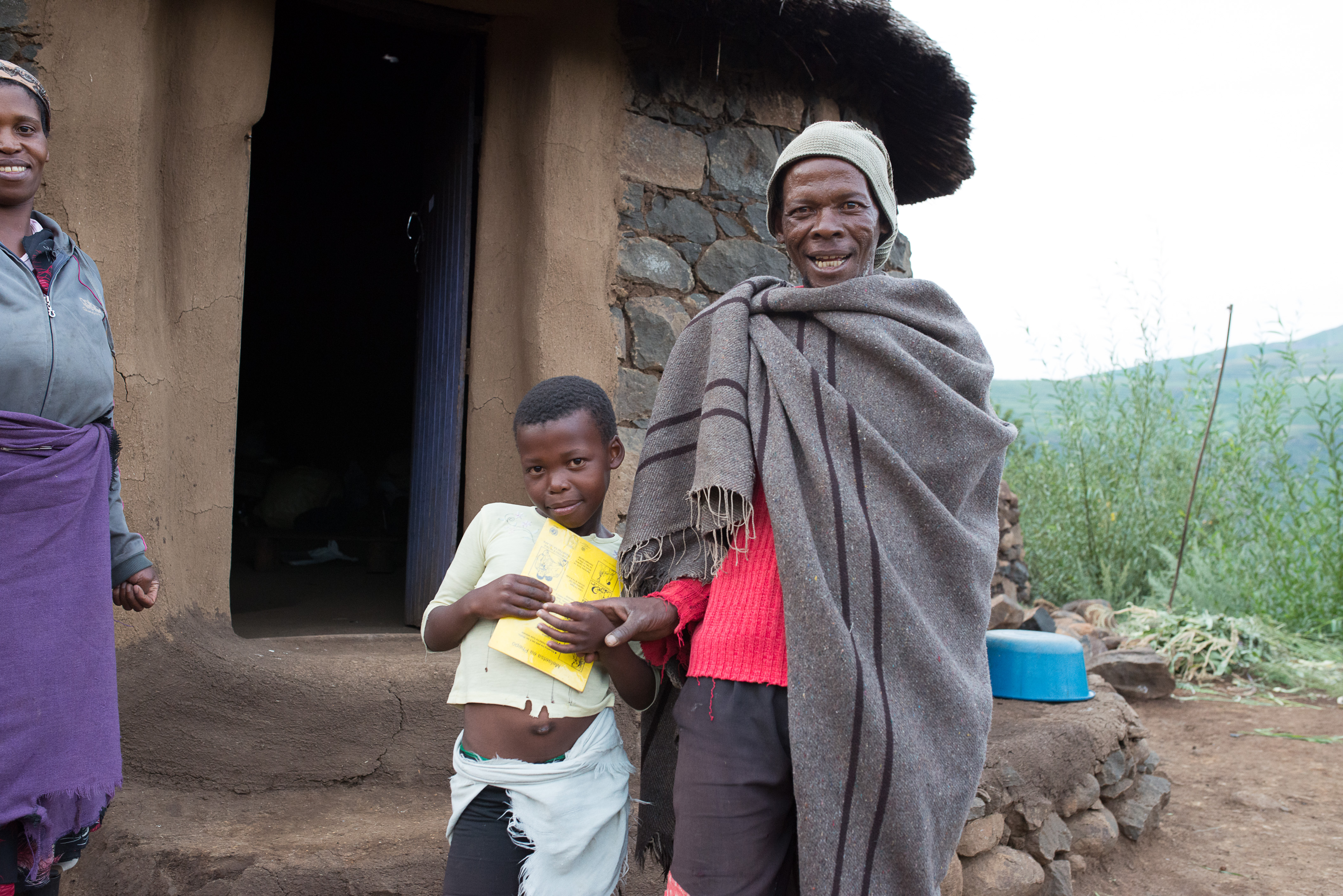 (Photo: Christian Heuss / Swiss TPH)
The first 90 has not quite been reached
MS: Aside from the obstacles you have just mentioned, what are the largest difficulties you face in connection with this project?
NL: Above all, it is a question of resources. Travelling to remote villages to test people there presents enormous challenges: long distances, poor-quality roads, especially during the rainy season and driving around for hours and hours. And once you reach the villages, half of the people are not at home, so you have to come back at the weekend and even then, they are still not all there. It is possible, but it takes enormous effort and resources. Counselling and administering medication then becomes only a minor expense in comparison. We have not yet reached the first target. We have not managed to test 90% of the entire population in the district, as almost a quarter of the people were not at home when we visited their households. Many people from Lesotho work in the mines in South Africa and are only coming home from time to time. And then there are also people who do not want to be tested, such as groups of young men, who promptly ran away from the village when we arrived.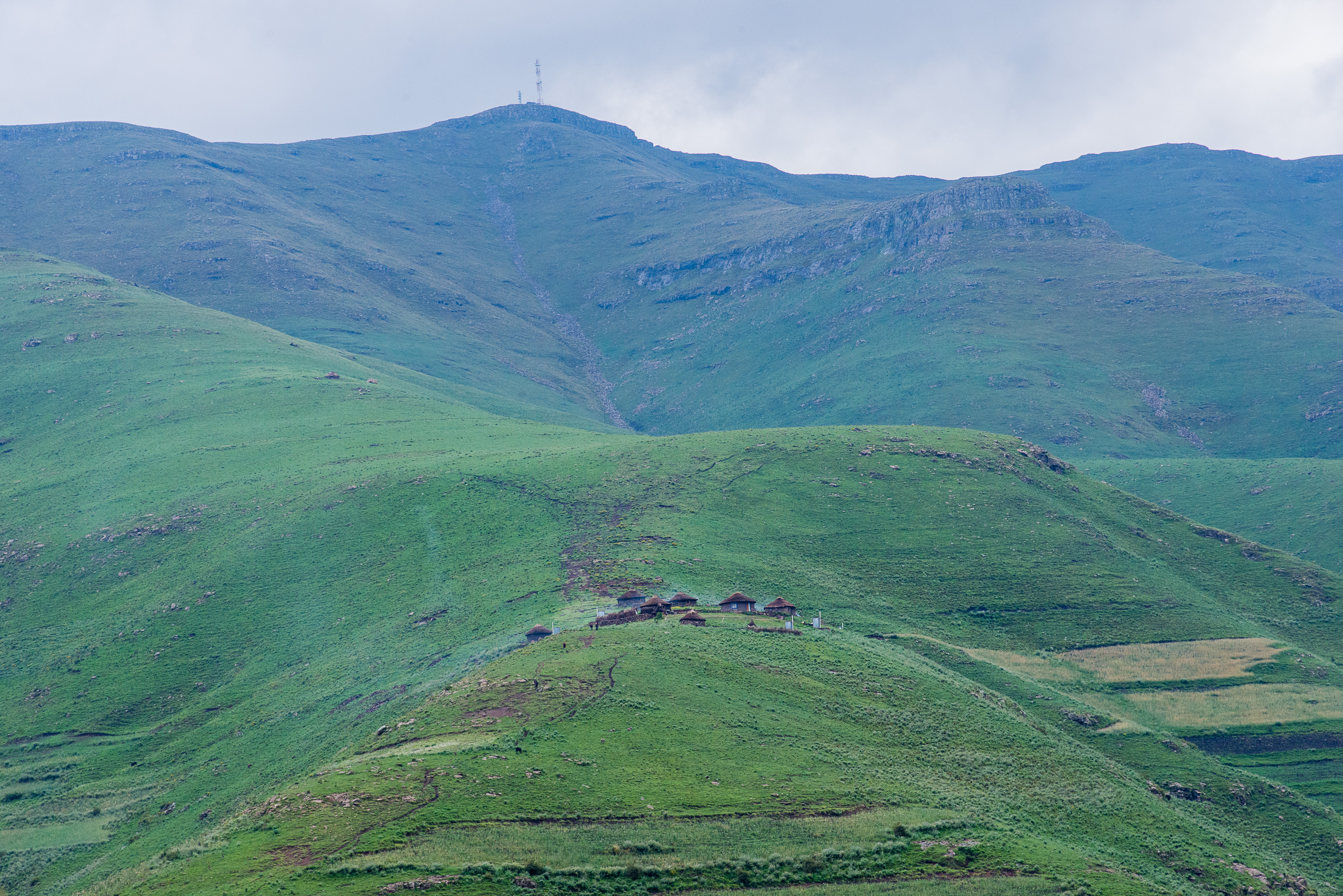 (Photo: Christian Heuss / Swiss TPH)

Lay counsellors take on an important role
MS: Are the lay counsellors able to perform all the tasks, from testing to counselling, competently without a medical background?
NL: That is a good question. Task shifting was implemented in Southern Africa at a very early stage on account of the shortage of doctors and very high numbers of people infected with HIV. For this reason, HIV treatment is usually left up to nurses with two or three years of medical education. This is very different in comparison to Switzerland where HIV treatment is only performed by specialized doctors. But it works very well. In the SolidarMed project, 90% of patients never see a doctor. When we started the project, we had to face the fact that we also had too few nurses for the tasks which needed to be done. That was why we had to train lay providers. From a technical perspective, it is easy to carry out a HIV test, but the pre- and post-test counselling sessions are more demanding. For this reason, the two-week standard training for lay advisers focuses on these counselling sessions. After this, it cannot be said that a biomedically trained worker would necessarily do a better job than a lay counselor.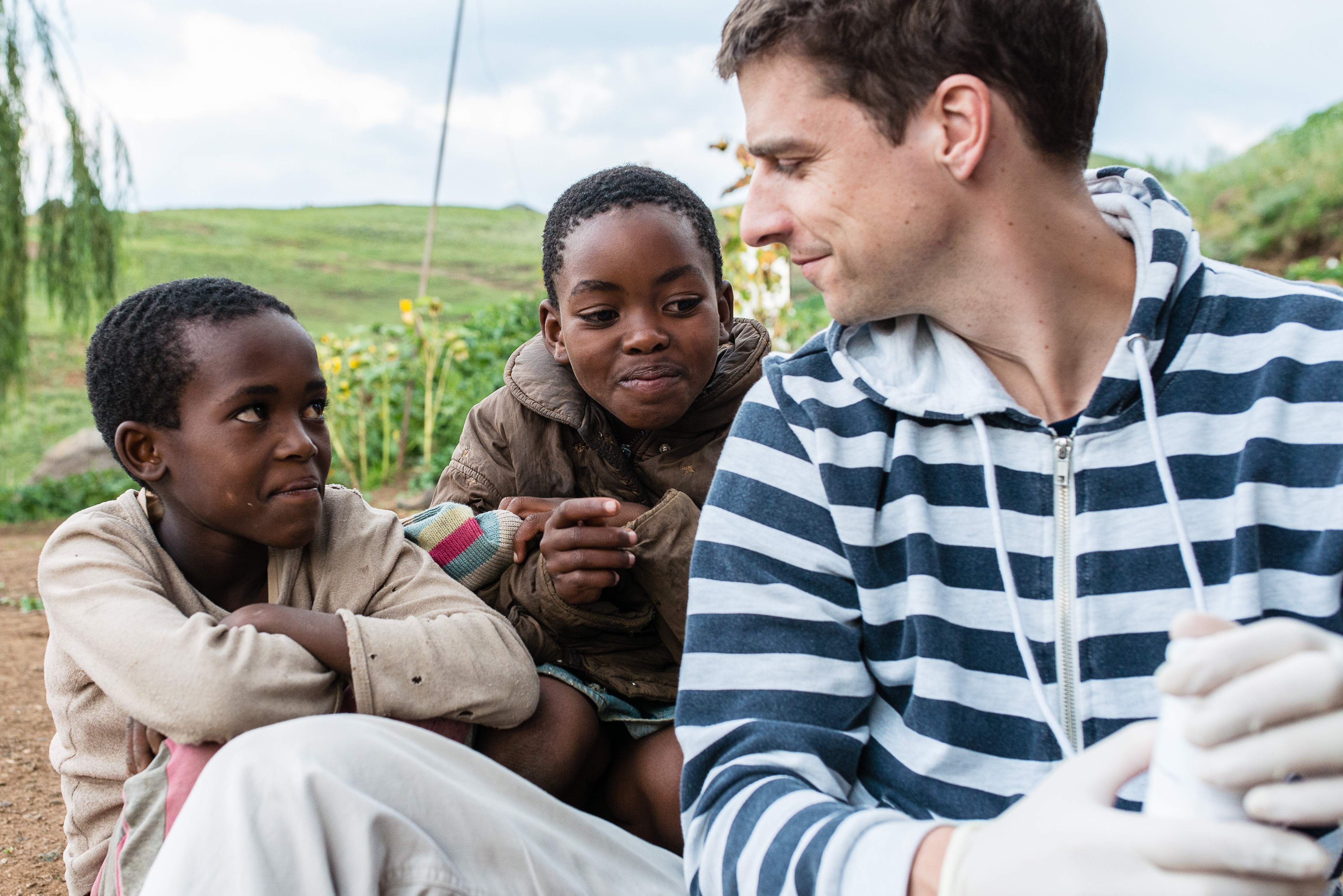 (Photo: Christian Heuss / Swiss TPH)

The largest public health adventure of all time
MS: How willing are people to take the medication, particularly if the illness is still latent?
NL: We don't have any concrete data yet, just initial experiences. The AIDS epidemic is ubiquitous in Lesotho. Everyone knows people personally who have either died of AIDS or are taking medications. HIV is therefore much less stigmatised than, for example, in medium-prevalence countries in West Africa. This means people are usually quite willing to start treatment. We also know that HIV patients who were already extremely ill and survived thanks to treatment adhere to their treatment plan. But it will be a few years before we know how the commitment to treatment will continue to develop. For some critics, the 90-90-90 strategy is the largest public health adventure of all time: The worst-case scenario would be if lots of people stop their treatment prematurely, and as a consequence, millions of people carry a resistant strain of HIV – this would be a disaster.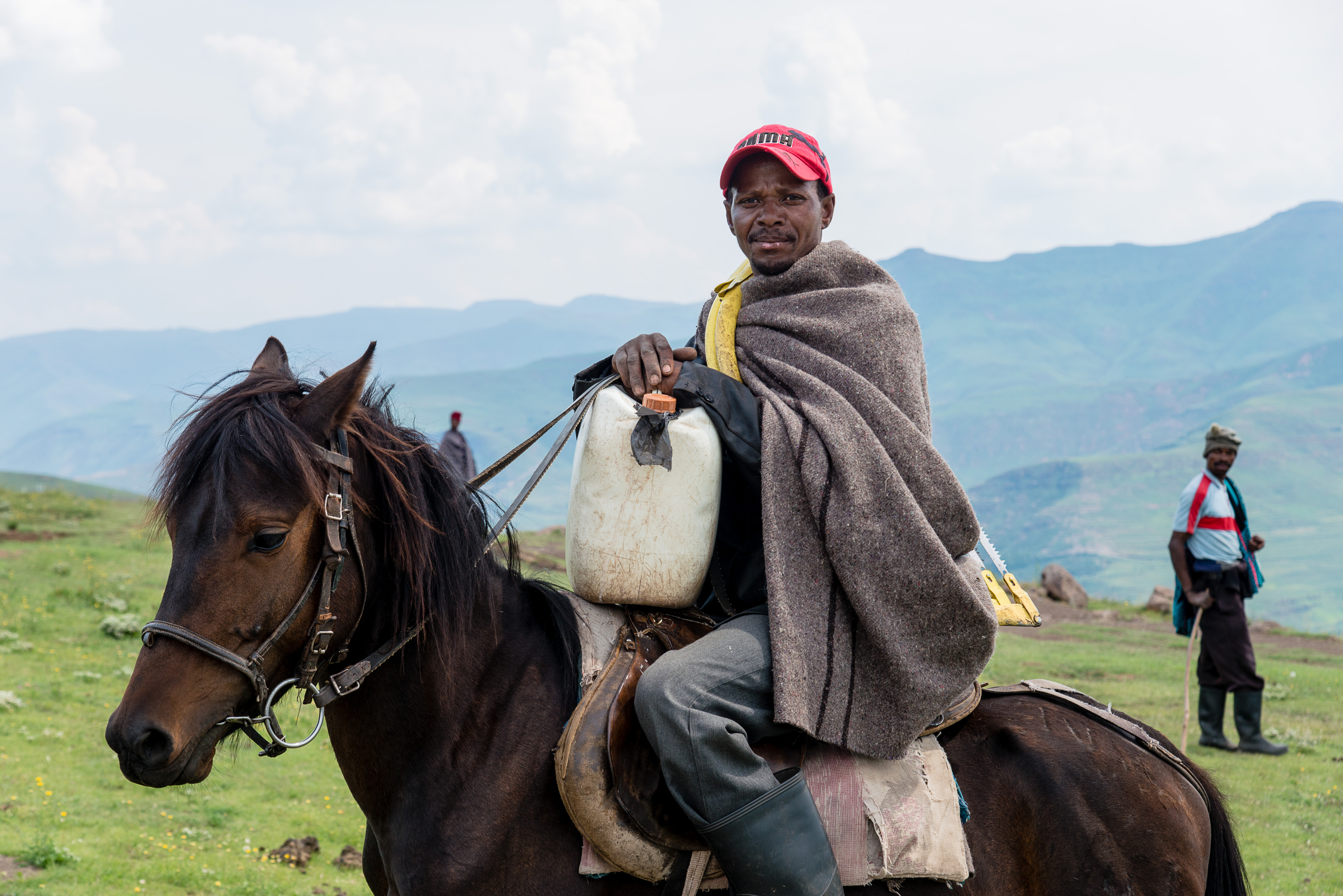 (Photo: Christian Heuss / Swiss TPH)

A special research partnership has made the pilot project possible
MS: How is the project financed?
NL: We have set up a consortium consisting of Lesotho's Ministry of Health, SolidarMed, the Swiss Tropical and Public Health Institute (Swiss TPH) and the Department of Biomedicine at the University of Basel. These four parties have developed the project together and contribute to funding. We have received over half a million Swiss francs in research funding from the Swiss National Science Foundation (SNSF) through Swiss TPH. And substantial funds are provided by the Ministry of Health in Lesotho, such as cost of treatment as well as salaries of health care providers. SolidarMed brought other infrastructure to the table, and the Department of Biomedicine at the University Hospital of Basel contributed its laboratory expertise for viral load measurements. In addition to this, other foundations, e.g. the Bangerter-Rhyner Foundation and the Foundation "Stiftung für Infektiologie Beider Basel", have funded subprojects.
MS: Could your project serve as a model for all African countries?
NL: Our approach involving community-based testing and starting ART is a more suitable model for rural, high-prevalence regions such as Malawi and Swaziland, and also for regions such as KwaZulu-Natal in Southern Africa, Mozambique or Zimbabwe. When you go to villages to test people, there's a 'high rate of return', so to speak, in these high-prevalence countries. However, in medium-prevalence settings where only 2–5% of people are HIV positive, it is harder to locate enough households with people who are HIV positive to make it worth-while travelling to all these villages.
We need to be more radical
MS: What lies ahead for the project? What are the next steps?
NL: Right now, we are of course very keen to see what the viral load of our patients will look like in 12 months' time, at the end of 2017. That will be very interesting. Besides this, we need to be more radical. That means that we are going to continue visiting people's homes to offer them the test, but we are also going to leave self-testing kits for those who are not home. This will allow them to easily test themselves using their saliva. Furthermore, we need to try to supply a lay person in every village with a stock of medication. This means that during the first six months, people can get their medication from this person and do not need to travel to the clinic.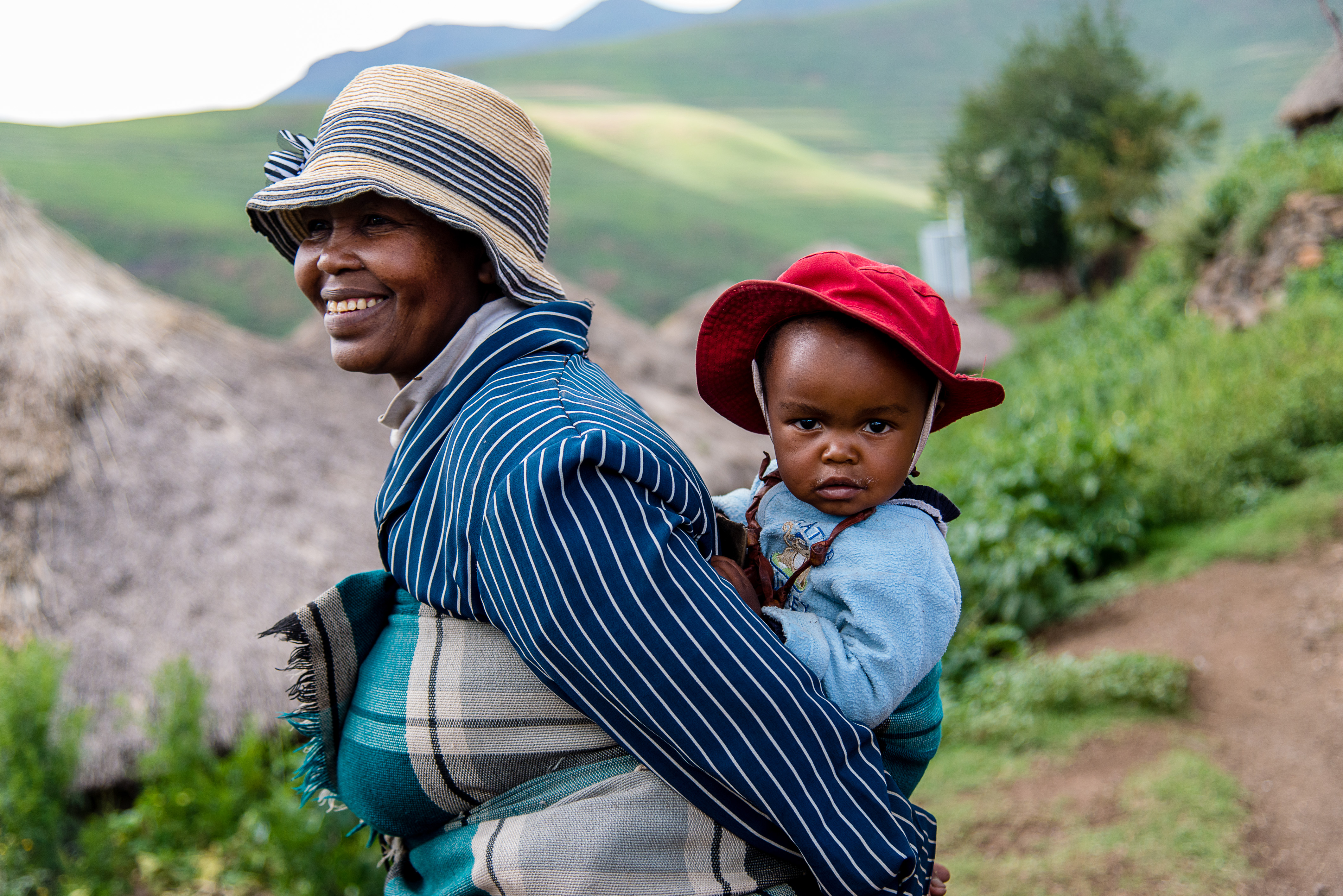 (Photo: Christian Heuss / Swiss TPH)

The founders of the Fast-Track campaign ought to be congratulated
MS: What do you think of the UNAIDS campaign as a whole? Is there any chance of achieving the 90-90-90 goal by 2020?
NL: Southern and Southeastern Africa will come close. West and Central Africa will miss the target by far.
MS: Does that mean that the Fast-Track campaign has failed?
NL: No, I think the founders of the Fast-Track campaign ought to be heartily congratulated. They have managed to bring together so many different elements. They have taken the most recent scientific evidence into consideration, and accounted for the outbreak of 'AIDS fatigue' among funders several years ago. The Fast-Track campaign has also mobilised new resources by setting the deadlines for 2030. Financing AIDS projects has become more attractive. And now any reasonably serious HIV programme has to measure itself by the 90-90-90 targets, which makes it possible to compare the programmes to a certain extent. Moreover, countries such as Botswana show us that when a government really wants to, it can reach this target and bring the HIV epidemic under control. The treatment cascade in the HIV programme in Botswana is now better than the cascade in the USA.
Of course, a lot depends on the future of international funding and most notably, funding from the USA. These funding sources are crucial for Southeastern Africa. But I am optimistic, I can't image that the major players will suddenly stop funding HIV medications, and treatments will become even cheaper and more effective in the future. Long-acting HIV medications, such as the depot injections or implants which are effective for several months, are expected to come onto the market soon. Hopefully, in about five years, we will go from door to door and distribute depot medication which is effective for six months.
MS: Those are encouraging prospects, Mr Labhardt. Thank you for talking to us.
Niklaus Labhardt conducts the HIV consultation at Jura Hospital in Delémont, Switzerland and works as a researcher for the Swiss Tropical and Public health Institute (Swiss TPH). He leads the "towards 90-90-90" project in Butha-Buthe District in Lesotho. Contact: n.labhardt@unibas.ch
The interview was conducted by Martina Staenke, Collaborator communication Medicus Mundi Switzerland/aidsfocus.ch. Contact: mstaenke@medicusmundi.ch
Resources: