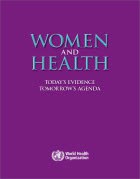 Genre
Women and Health: Today's evidence, tomorrow's agenda
In a landmark report on the health of women and girls across the globe, the World Health Organization (WHO) states that AIDS-related illness is the leading cause of death and disease among women of reproductive age in low and middle income countries, particularly in Africa. Also, globally, unsafe sex is the single leading risk factor contributing to deaths among women of reproductive age. These findings support the contention in Women and Health: Today's Evidence, Tomorrow's Agenda that in a multiplicity of areas female health is neglected and must now be considered an urgent priority.
The report maintains that women and girls are especially vulnerable to HIV infection due to a variety of biological and social factors. These include low socio-economic status that can limit choices and lead to high risk behaviours and norms and laws that subjugate women and which discourage them from seeking and obtaining the information they need to keep themselves safe. For example, globally only 38% of young women are able to describe the main ways to avoid infection and they are less likely to know that condoms can protect against HIV than young men. Data from 16 countries in sub-Saharan Africa from 2001-2007 also show that HIV prevalence is generally higher among adolescent girls aged 15-19 than their male counterparts. A significant cause of this is young girls partnering with older men who are more sexually experienced and more likely to be infected.
Violence against women
Violence against women is also a major cause of their increased vulnerability to HIV. It can make it difficult or impossible for them to control their sexual lives, abstain from sex or get their partners to use condoms. Violence, or the threat of it, can also result in women avoiding HIV prevention, treatment, care and support services.
For UNAIDS, this is a major area of concern and its Outcome Framework 2009-11 has stopping violence against women and girls as one of nine priority areas.
Gender inequalities
Women and Health has an extremely broad scope and addresses a range of women's health issues. The factors that come into play to increase women's vulnerability to AIDS are also shown to profoundly affect women and girls' general health and well-being. As the report contends, gender inequalities in the allocation of resources such as education, income, health care, nutrition and having a political voice are very much associated with poor health and reduced well-being.
Key stages relevant for health: early childhood, adolescence, adulthood and older age
The report explores the lives of women and girls through key stages relevant for health and shows that women face "widespread and persistent inequities" during each of these stages. It not only highlights women's health needs- and how they are not being currently met in terms of HIV and other areas- but also the valuable contribution that they make to the health sector and society in general.
WHO hopes that by reviewing the available data and charting a cogent way forward that the health of women and girls, and society as a whole, can be ameliorated. As the report has it, "Improve women's health, improve the world." (2009)