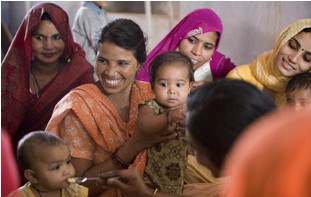 Genre
WHO site on Women and HIV/AIDS
Due to the importance of HIV/AIDS as a public health problem, and the many gender issues that surround it, the Department of Gender and Women's Health at the WHO has made focusing on gender and HIV a priority. The WHO site on women and HIV/AIDS includes papers on the integration of gender into HIV/AIDS programs, and the links between violence against women and HIV.
Violence against women (physical, sexual and emotional), which is experienced by 10 to 60% of women (ages 15-49 years) worldwide, increases their vulnerability to HIV.
Forced sex can contribute to HIV transmission due to tears and lacerations resulting from the use of force.
Women who fear or experience violence lack the power to ask their partners to use condoms or refuse unprotected sex. Fear of violence can prevent women from learning and/or sharing their HIV status and accessing treatment.
Programmes can address violence against women by offering safer sex negotiation and life skills training, helping women who fear or experience violence to safely disclose their HIV status, providing comprehensive medico-legal services to victims of sexual violence, and working with countries to develop, strengthen and enforce laws that eliminate violence against women.