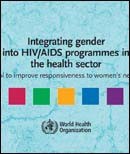 Genre
Integrating gender into HIV/AIDS programmes in the health sector
Half of all people living with HIV globally are now women and this figure rises to over 60 per cent in sub-Saharan Africa, where young women aged 15-24 can be several times more likely to be HIV-positive than their male counterparts. In order to offer women greater protection against the virus, the World Health Organization (WHO) has designed a hands-on tool to integrate gender into AIDS programmes in the health sector.
The impact of the epidemic on women is exacerbated by a number of factors women can face, including economic dependence on men which may limit their ability to refuse sex or negotiate condom use; their relatively low status, their vulnerability to violence, and lack of access to information and education about HIV. Such inequalities affect women's experience of HIV, limiting their ability to cope once infected. In 2001 and 2006, the UN General Assembly Declarations of Commitment on AIDS spelled out the need for member states to address gender inequality as a major driver of the epidemic.
Field-tested in five countries (Belize, Honduras, Nicaragua, Sudan and Tanzania), the new tool helps those planning and implementing AIDS programmes in the health sector to better understand the links between gender inequalities and the virus. It raises awareness of how these inequalities influence women's access to, uptake of, and experience with such programmes and services in the health sector.
The manual also gives practical suggestions to managers and health care providers, both public and private, on how to integrate gender into HIV programmes, rendering them more responsive to women's needs. Informing national AIDS strategies, frameworks, guidelines and operational plans the tool can also be used by practitioners in their day to day work.
One AIDS service provider in Lindi, Tanzania believes that use of the tool in training him has been highly beneficial. "I am a role model in the society and my male fellows will be astonished if I bring gender issues as a man. But because I am a role model, I will do it."
In addition to describing basic steps in gender-responsive programming, the manual suggests concrete actions to address key gender issues in four service delivery areas; HIV testing and counselling; prevention of mother-to-child transmission; treatment and care and, finally, home- based care and support for people living with HIV.
It also offers examples of gender-responsive interventions from the field, and resources such as counselling role plays for risk-reduction and HIV treatment adherence, and protocols for addressing the risk of violence against women as a result of HIV status disclosure. While citing specific examples, WHO suggests that the tool should be adapted to suit the specifics of each national and local environment.
The manual is seen as a work in progress which will be updated and revised as necessary for use by those who, according to WHO, are committed to gender equality and the health and well-being of all. (WHO 2009)
Integrating gender into HIV/AIDS programmes in the health sector