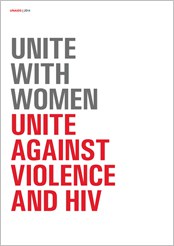 Violence sexuelle
Unite women against violence
The AIDS response is producing exciting results and we can already foresee a time when the AIDS epidemic could end. Yet, the promises of science, politics and economic development will not be realized if we do not unite with women against violence as an integral part of the HIV response.
Violence is a key risk factor for HIV among women, including sex workers, transgender women and other women from key populations. Global and regional estimates of violence against women and the related health consequences show that it is a significant public health concern as well as a violation of women's rights.
Yet, there is much that can be done to address the impact that violence against women has on the HIV epidemic. Based on global and regional estimates for violence against women, the World Health Organization (WHO) has identified no fewer than 16 programmatic opportunities to address violence against women in the context of HIV.
Building on that work, this advocacy brief provides key messages to inspire actions that respond to the needs and rights of women. As this brief makes plain, the widespread prevalence of violence against women means there is no time to lose and everything to gain.
Violence against women is a human rights violation
Women who experience violence are more likely to acquire HIV
Women living with HIV are more likely to be subject to violence
Women most vulnerable to violence are most vulnerable to violence
Violence undermines the HIV response by creating a barrier to accessing services

UNAIDS 2014