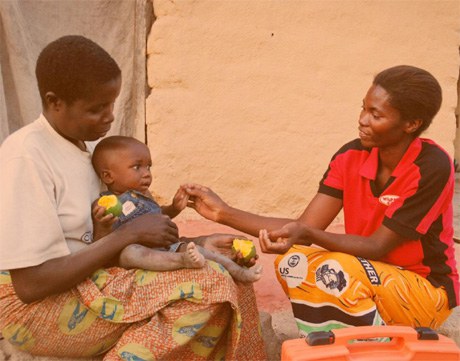 World Vision Schweiz
Global Health. HIV & AIDS: The Hope Initiative Final Report
Let's stand behind the vision of UNAIDS and the World AIDS day theme of 2011: ""Getting to Zero -– Zero New HIV Infections; Zero Discrimination; and Zero AIDS-related Death."" With our combined efforts, no child needs to become infected by 2015. Let this be our motivation to continue the work, and to strive to reach further and do more.
This statement in the final report of the Hope Initiative disproves the people who might have understood that World Vision has deprioritised, or even stopped their commitment and their work on HIV. Nothing could be further from the truth.
The following video highlights the progress made from World Vision Hope Intitiative:
Notable progress has been made. More than half (53 per cent) of all pregnant women living with HIV in lower and middle income countries received antiretroviral (ARV) prophylaxis or treatment in 2009, up from 15 per cent in 2005. In that same year, Botswana, Namibia, South Africa and Swaziland, along with Argentina, Brazil, Thailand, the Russian Federation and the Ukraine had all achieved at least 80 per cent coverage with ARVs for PMTCT. These national successes and declining HIV prevalence in many countries since 2005 provided the impetus for a global goal to eliminate new HIV infections in children.
However, advancement on other indicators has been less encouraging. Only half of the mothers receiving prophylaxis were assessed for their own ARV needs in 2009, and only 15 per cent of exposed infants were tested for HIV during the first two months of life. Leaders and stakeholders therefore recognise that rapid scale up to achieve the global goals by 2015 will require programmes to go well beyond doing "more of the same."
HIV programming will continue to be an integral part of our development and relief work. In line with the new HIV strategy, our HIV work will have a very specific geographic and programmatic focus.
We will focus our work on the World Vision countries with a high HIV prevalence or concentrated epidemics, as identified by our Triggers for Action document. We will give high priority to the UNAIDS priority countries and the 20 countries prioritised by UNAIDS's global plan to eliminate mother-to-child transmission.
World Vision will focus its HIV programming on three issues:
community-based prevention of mother-to-child transmission (cPMTCT)
the reduction of gender-based vulnerabilities and
integration with other World Vision programmes and sectors.

Global Health. HIV AIDS The Hope Initiative Final Report.pdf
— (540 kB)