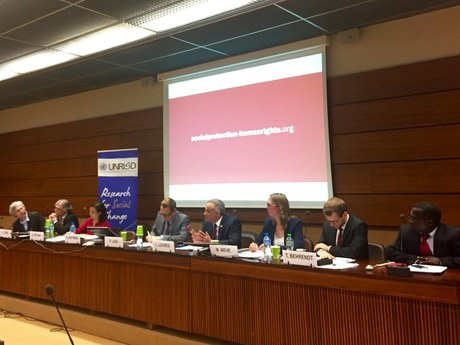 Kwa Wazee
Kwa Wazee was invited by UNAIDS
Kwa Wazee accepted an invitation by UNAIDS, ILO and UNRISD to participate in a panel discussion on "Fast-tracking Social Protection to End AIDS". The event, which took place in the run-up to this year's "High Level Meeting on Ending AIDS", discussed selected HIV / AIDS projects that are dedicated mainly to the social issues related to the disease.
Kwa Wazee has been fighting for years for social pacification and financial security of the elderly in Muleba District in Kagera, Tanzania, which is especially affected by the consequences of HIV / AIDS. The grandmothers who care for their by AIDS orphaned grandchildren or maintain for their sick children until death, are particularly affected by the disease and for many of the elderly, the situation of HIV / AIDS has changed dramatically.
The UNAIDS Fast-Track Report shows that HIV is not only a medical problem, but that social factors are decisive when ending AIDS until 2030 should become a reality. Also one of the latest UNAIDS publications  "Social Protection: Advancing the Response to HIV" emphasizes the close connection between a comprehensive response to HIV including social factors and human rights.
At the Panel discussion on "Linking Social Protection and Human Rights" in May 2016 where researchers, politicians and professionals (including Kwa Wazee) participated, the interventions quoted in the above mentioned report had been discussed.
The presentation of Stefan Hofmann, CEO of Kwa Wazee can be found in the attachment.
The High Level Meeting on ending AIDS occurred in New York in June 2016 after this debate.