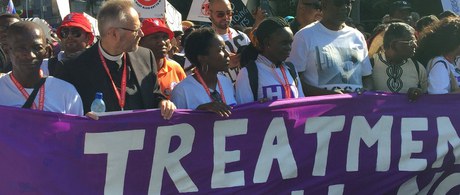 Agenda
The end of Aids does not come by its own! Agenda The end of Aids does not come by its own!
28/11/2017 | Landesvertretung Baden-Württemberg | Tiergartenstr. 15 | 10785 Berlin
15 years Action against AIDS Germany. Live is a human right.
Action against AIDS - Just a few years ago it seemed impossible to treat globally 18 Million people with HIV. The global community has the capacity to end the global Aids epidemic. The implementation of the Agenda 2030 with the sustainable development goals stands and falls with the regressions of devastating diseases, such as HIV, TB and Malaria. Action against AIDS Germany advocates since 15 years for a solidly united response to the epidemic. This is the time to take inventory with our members, partner organizations and the interested public.
Questions we want to raise:
What are the current challenges? &
How can the end of Aids be achieved?
We have invited community experts from Eastern Europe, the African continent and other regions, hit hard by the HIV epidemic. Important topics to be discussed: the reality of life of PLHIV, human rights, access barriers to prevention, diagnostics and therapy and the provision of necessary financial resources by those countries affected as well as by international cooperation. The contribution of Germany and Europe for the realization of the internationally agreed development and health goals will be under scrutiny. Participation will be for free.
Registration by email: dasendevonaids@aids-kampagne.de