Actualités
Write Us In! campaign: three reasons to sign our petition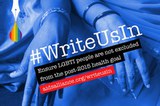 aidsalliance, 14 May 2015 - For months we've been campaigning to ensure that marginalised groups who are most at risk of HIV are not overlooked by the UN in the post 2015 health agenda.
As I write this, member states are preparing to gather in Geneva for the 68th World Health Assembly where discussions will continue about the next set of global development goals which will determine the health agendas and policies of countries for the next fifteen years.
We need to act now to ensure the health goal which aims to ensure that everyone can have access to affordable and high quality health services through Universal Health Coverage will address the specific healthcare needs of LGBTI people and other marginalised groups.
Last week we launched the Write Us In! campaign asking you to sign our petition calling for equal access to healthcare for LGBTI people. I want to thank each and every one of you for taking the time to support this action. We will make sure your voice is heard next week at the World Health Assembly when we hand over the petition to Margaret Chan, Director General of the World Health Organization and Jim Yong Kim, President of the World Bank.
If you haven't yet signed the petition, here are three reasons why you should: Read more....