Actualités
Who is on the shortlist for Global Fund's new executive director?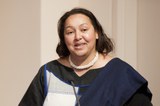 www.devex.com - "MANILA: After a difficult start to its search for a new executive director early this year, the board of the Global Fund to Fight AIDS, Tuberculosis and Malaria announced Monday the latest set of candidates it is considering for the position.
The list includes an eclectic mix of candidates with diverse backgrounds to replace former executive director Mark Dybul, who stood down in May after a four-year term. Two of the candidates have extensive experience in the financial industry, while the other two have spent the bulk of their careers working in global health, including previous engagements with the Global Fund.
Three of the finalists are men, and one woman. The board is expected to select the fund's new head at its meeting on November 14, but prior to that welcome comments and input from stakeholders." (Photo: Frannie Léautier,World Bank Photo Collection/flickr, CC BY-NC-ND 2.0)