Actualités
When women lead, change happens.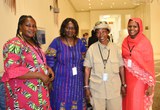 UNAIDS - Indignation. Hope. These two words immediately come to my mind every time I address the issue of girls, women and HIV. Indignation that girls and women are still bearing the brunt of the AIDS epidemic. Women living with HIV face stigma and discrimination at the hands of family members, in communities, at the workplace and in health-care settings.
(...) However, much of this is changing. I see a world full of hope. When women lead, change happens. Results follow. The AIDS response has been led by women. When there was no treatment available, women were at the forefront of providing care for people living with and affected by HIV." (Forword by Michel Sidibé to the new UNAIDS report "When women lead, change happens") Photo: USAFRICOM, Womens's Leadership Forum / flickr, CC BY-NC 2.0.