Actualités
#WeAreREADY at the World Health Assembly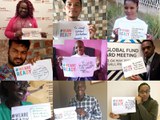 www.aidsalliance.org - "The Alliance is profiling READY, a portfolio of projects focusing on adolescents living with and most affected by HIV, at the 70th World Health Assembly in Geneva from 22 to 31 May.
READY stands for Resilient and Empowered Adolescents and Young People, and represents an expanding portfolio of projects implemented in collaboration with other organisations. READY+ and READY Teens are two projects already underway in East, Central and Southern Africa.
Why focus on adolescents?
Adolescence is a distinct time of life, marked by puberty, the transition from childhood to adulthood, and a desire to form relationships and explore sexuality. It is a period when we are particularly vulnerable to having our health needs compromised by social norms, peer pressure and lack of adequate services." (Photo: From left to right : Consolata Opiyo (Y+), Jaime Luna (Y+), Gcebile Dlamini (SNYP+), Rawnak Rabbi (Youth Voices Count), Nadya Muharami (NYP+), Nicholas Niwagaba (UNYPA), Claudia Nizigiyimana (RNJ+), Moses Bwire (Peer to Peer Uganda), and Nadège Munyaburanga (Kigali Hope Association) / www.aidsalliance.org)