Actualités
UNAIDS Programme Coordinating Board (PCB)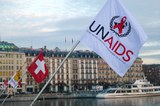 UNAIDS - "6th-9th of December, the 39th UNAIDS Programme and Coordinating Board (PCB) took place under Swiss chairmanship in Geneva.
The PCB took decisions for action related to community involvement and financing, HIV paediatric prevention, treatment and care and access to medicine. In order to address UNAIDS' financial deficit and enhance its efficacy, the PCB mandated UNAIDS to present a proposal to the 40th PCB in June 2017 on how to strengthen its operating model."
Find the decisions of the meeting here.
(Photo:UNAIDS)