Actualités
UNAIDS announces nearly 21 million people living with HIV now on treatment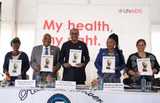 UNAIDS - CAPE TOWN/GENEVA, 20 November 2017: "Remarkable progress is being made on HIV treatment. Ahead of World AIDS Day, UNAIDS has launched a new report showing that access to treatment has risen significantly. In 2000, just 685 000 people living with HIV had access to antiretroviral therapy.
By June 2017, around 20.9 million people had access to the life-saving medicines. Such a dramatic scale-up could not have happened without the courage and determination of people living with HIV demanding and claiming their rights, backed up by steady, strong leadership and financial commitment.
"Many people do not remember that in 2000 there were only 90 people in South Africa on treatment," said Michel Sidibé, Executive Director of UNAIDS, speaking in Khayelitsha, South Africa. "Today, South Africa has the biggest life-saving treatment programme in the world, with more than 4 million people on treatment. This is the kind of acceleration we need to encourage, sustain and replicate." (Photo: UNAIDS)
New report from UNAIDS highlights the right to health as the key to ending AIDS!