Actualités
The future of UNAIDS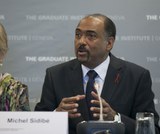 Devex - "Berlin: The United Nations AIDS agency ended 2018 in crisis. It is unclear how it will recover. The troubles center on the contents of a report, published by an independent panel in December, documenting how the program's leaders failed to prevent or respond to allegations of sexual harassment, bullying, and abuse of power.
That includes sexual assault allegations against long-time deputy director Luiz Loures, and heavy criticism of executive director Michel Sidibé for his muted handling of the situation. Loures, who denied the allegations, left without reprimand when his contract ended last year." (Photo: United States Mission Geneva/flickr, CC BY-ND 2.0)
"It's an opportunity to come back stronger in some ways if you can begin to use this crisis as a basis for streamlining and refocusing and repopulating."
— Stephen Morrison, global health expert, Center for Strategic and International Studies