Actualités
Tanzania illegally detains human rights lawyers for 'promoting homosexuality'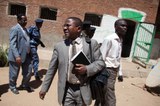 The Guardian - "Tanzanian activists also among group of 13 people held without charge after organising meeting to discuss legality of state clampdown on gay community.
A group of human rights lawyers and activists who were researching a case against the Tanzanian government has been illegally detained after police accused them of "promoting homosexuality".
Among those arrested were three lawyers from the Initiative for Strategic Litigation in Africa (Isla), a human rights legal organisation, and nine members of Community Health and Education Services and Advocacy (Chesa), a Tanzanian sex workers' rights organisation.
(...) There has been a crackdown on homosexuality in Tanzania over the past 18 months, although the country has no law against homosexuality or its promotion. "People are being arrested almost every day," said LGBT campaigner James Wandera Ouma. "I've been arrested 17 times. It's straightforward harassment and intimidation."
In October 2016, the Tanzanian government announced a on ban HIV/Aids outreach projects aimed at gay men, and closed US-funded programmes that provide testing, condoms and medical care to the gay community. The countrywide closure of private HIV clinics began soon afterwards." (Photo: Independent Expert on Human Rights/UNAMID/flickr, CC BY-NC-ND 2.0)