Actualités
HIV infections in Russia reach record-high and account for almost two-thirds of new cases in Europe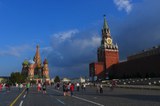 Independent - "Two-thirds of all new HIV cases in Europe are being recorded in just one country – Russia. More than a million Russians now live with the virus and that number is expected to nearly double in the next decade, in what has been called Europe's HIV epidemic.
The statistics were revealed in a report by the European Centre for Disease Control and the World Health Organisation, which found that 153,407 people across Europe were newly diagnosed with the illness in 2015.
Of these, 64 per cent of all cases were registered in Russia – equal to 98,177 people – which is up from the 60 per cent of all cases in Europe a year earlier. (...)
"HIV transmission is still a major concern in Europe," the report warns.
"Despite significant efforts dedicated to the prevention and control of HIV in Europe, the number of new HIV diagnoses has not declined substantially over the last decade in the western part of the region and has more than doubled in the east."
The report said the increases were being driven mainly by heterosexual transmission in Russia and eastern Europe and in men who have sex with men in western and central regions." (Photo: alberto fenotti/flickr)