Actualités
Helen Clark: Beyond the MDGs: HIV and the Post-2015 Agenda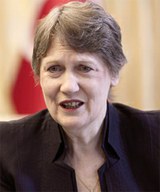 Melbourne, 26 July 2014 – Last year, there was huge outreach facilitated by the UN development system to hear from the world's peoples about what they wanted to see in the new agenda. More than three million people are now estimated to have engaged – most through the on-line MyWorld survey, but many also through national consultations which reached out to a very wide cross section of people.
A key piece of the feedback has been that the unfinished business of the MDGs needs to be completed. While there has been a lot of progress on HIV, there is obviously also unfinished business, as there is on many of the other MDGs and targets.
Since early last year, the Open Working Group set up by the UN General Assembly has been working on what should be targeted in the Sustainable Development Goals which will follow on from the MDGs.
This Group has just finished its work. It is recommending a significant increase in the level of ambition on HIV – moving from the MDG target on halting and reversing the epidemic to ending the epidemic by 2030.
Elsewhere in the OWG's recommendations on the SDGs, there are also other important targets which relate to HIV responses; for example, on:
• ensuring universal access to sexual and reproductive health;
• ending all forms of discrimination and all forms of violence against women and girls; and
• ensuring that all learners have education on human rights, gender equality, and promotion of a culture of peace and non-violence
Overall, it is clear that the SDGs, when finalised, will, like the MDGs, have important links across the body of goals and targets.
HIV, for example, can trap families, communities, and nations in poverty. If the goal is to eradicate poverty, then the end of the HIV epidemic will be a very important component of achieving that.
But AIDS is also increasingly a disease of inequalities and exclusion. If the SDGs target gender inequality and all forms of discrimination, and promote a culture of peace and non-violence, this will be very positive for ending the epidemic.
The next step in the post-2015 process will be for the UN Secretary-General to present the General Assembly with a synthesis report on the deliberations so far. Negotiations on the SDGs are expected to begin between Member States later this year. A very important conference on financing for development will be held in Addis Ababa next July. The new development agenda is scheduled to be agreed by world leaders in September next year.
What is critical for the AIDS response is not to lose the momentum generated by MDG Six and the partnerships and funding mobilised around it.
The end of the AIDS epidemic will come about because of a wide range of actions by a wide range of stakeholders. An SDG which targets the end of the epidemic and encourages cross-sectoral interventions can help keep up the momentum already achieved.
UNDP will continue to advocate for the social determinants of HIV to be addressed, including through the repeal of punitive laws and policies.
The Global Commission on HIV and the Law, which we convened, found that changes in the law and policy, combined with other interventions, could lower new adult HIV infections globally to an estimated 1.2 million by 2031, down from an estimated 2.1 million new infections forecast under business as usual. The accelerated effort would require stronger adherence to human rights principles, and actions to promote access to health for all, particularly among key populations, such as men-who-have-sex-with-men, sex workers, transgender people, and people who use drugs.
While there are subtleties and caveats in what is meant by ending AIDS, let us be clear that it should not mean defined success in terms of a background epidemic which has moved just far enough into the shadows so that people no longer care. Nor should it mean protection of the general population from infection while the epidemic rages unchecked among the most vulnerable and excluded people in societies. Ending the AIDS epidemic must mean ending it equitably and with dignity for all.

So how can this goal be achieved?
Evidence suggests that countries which have been successful in curbing disparities in health have focused public expenditure on the universal provision of social services, while also ensuring that all groups have access to them. This can be achieved in countries with limited resources. Thailand, for example, has achieved universal health coverage by spending less than the recommended WHO 2040 benchmark of five per cent of GDP on health.
But improving health services is just one factor amongst the many determinants of health and health inequities. The stark truth is that inequities in health outcomes persist in countries with decades of experience in universal health coverage. We need investments across the SDGs: on social protection, education, advancing gender equality, and law reform in order to have maximum impact on HIV outcomes.
In closing, let me stress that the obstacles to ending the AIDS epidemic are as much social, political, and legal as they are financial and technical. A strong target in the post-2015 development agenda will help raise aspirations and generate the momentum needed.
Strong political will is required from governments, which are ultimately responsible for national HIV responses. It will also require increased support from the international community, and a commitment to human rights. Ending the epidemic requires improved monitoring and accountability mechanisms, and investments in all aspects of the HIV response. It requires strengthened partnerships with civil society, affected populations, and communities.
Our responsibility, as development practitioners, civil society and the international community, is to stand by countries and the most affected people of the world to make the end of the epidemic a reality.