Actualités
Good Practice Guide: Adolescent HIV Programming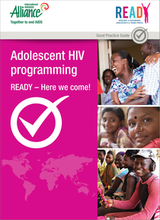 www.aidsalliance.org - "This guide is one of a series of good practice guides, and contains information, strategies and resources to help HIV programmers implement HIV programming for adolescents.
A greater understanding of HIV in high prevalence countries has increased awareness of the need to prioritise adolescents in HIV prevention, treatment, care and support. At the same time, a growing recognition that adolescence is a distinct time of life has focused attention on adolescents' different needs. Adolescents are now included as a separate target group in global and national strategies.
Increased access to HIV testing and treatment means that, more than ever, adolescents living with HIV know their status and are living longer on antiretroviral therapy (ART). Much more work is needed, however, to meet adolescents' needs for prevention, care, treatment and support services.
Barriers to access, poor uptake of both prevention and treatment services, stigma and discrimination, as well as challenges with adherence to treatment contribute significantly to HIV-related morbidity and mortality among adolescents."