Actualités
Global Fund Partnership has Saved 27 Million Lives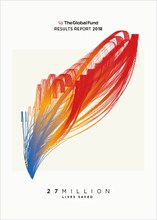 The Global Fund - "The Global Fund to Fight AIDS, Tuberculosis and Malaria released a new report demonstrating that 27 million lives have been saved by the Global Fund partnership. The report shows tremendous progress that has been achieved by efforts to end the epidemics, while highlighting new threats.
The Results Report 2018 includes key annual results achieved in countries where the Global Fund invests:
17.5 million people received antiretroviral therapy for HIV.
5 million people tested and treated for TB.
197 million mosquito nets distributed to prevent malaria.
The progress has been achieved with support from many countries and partners, including France – a founder and the second largest donor to the Global Fund. The report is being launched in Paris today at an event led by Jean-Yves Le Drian, French Foreign Affairs Minister. France will host the Global Fund's Sixth Replenishment Conference on 10 October 2019 in Lyon." (Photo: © Global Fund)