Actualités
Ebola, polio, HIV: it's dangerous to mix healthcare and foreign policy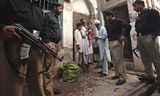 The Guardian - Using health workers and campaigns to cover political meddling undermines the trust that is essential in an emergency.
There are reasons to be fearful of the Ebola crisis gripping parts of west Africa: death; the risk of contagion; overburdened health infrastructure; and concern as neighbouring countries worry about what the WHO now admits is an international health emergency.
These difficulties are exacerbated by the population's fear not just of the virus itself, but also of the health workers there to help.
While this fear is primarily related to contagion, there are other, more deeply rooted factors at play. Mistrust of outsiders, particularly western health workers, is bound up in the history of Africa and colonial medicine. When much of the continent was under colonial rule, great powers used these outposts of their empires as laboratories, and Africans as their test subjects.
Much work has been done through the years to counter this negative legacy: decentralised health systems, collaborations with local partners, training for African health workers, and partnerships between government, civil society and international donors.
The Ebola outbreak underlines how quickly such progress can unravel in times of crisis, and how the legacy of past mistakes by western powers can resurface to speed up that unravelling, to the detriment of health and security locally and globally. Frequently, particularly in the developing world, past failures re-emerge, complicating efforts at crisis management.
In this context, recent revelations from Cuba – where it was revealed that the US Agency for International Development (USAid) had used HIV prevention work as a smokescreen for fomenting political opposition – should ignite a debate about the necessity of keeping the work of public health agencies, security services and foreign policy separate. Where they converge, trust is squandered. And, as we are witnessing in west Africa, mistrust in times of emergency hampers the necessary work and efforts of foreign aid workers hugely.
The so-called "securitisation" of healthcare is not new. The outbreak of HIV set a precedent as the first health issue to be recognised by the UN security council as an explicit threat to international security. While HIV was a genuine global crisis, there have been recent examples in which foreign policy objectives have been cloaked by apparently innocuous public health activities.
In Pakistan, CIA operatives masqueraded as polio vaccinators to gain greater access to Osama bin Laden's compound. Though the charade fulfilled its security intent, it later resulted in very damaging reversals in local efforts to eradicate the disease. The motive was disguised and trust was spent. Ultimately, the populace – and healthcare workers – suffered.
The ability of western governments and agencies to act as emergency providers of healthcare, and as honest brokers, will be increasingly reduced unless we agree that the provision of healthcare should be sacrosanct and protected from motives best realised by other means.
The "blue water" between global health and international security continues to narrow, as the UK foreign and commonwealth office encroaches further on the Department for International Development. Meanwhile, the US state department continues to treat USAid as an extension of its operations. Health has traditionally been housed in the international development agencies of western governments. However, as with the role and function of aid and international development, global health is increasingly seen as a part of wider international security strategies for protecting populations from threats such as bioterrorism and infectious diseases such as drug-resistant tuberculosis.
Tactical security objectives – however "successful" – should remain separate from international efforts to improve and protect public health. The Ebola crisis has posed incredible difficulties for health workers in west Africa – imagine how difficult it would be to deal with an outbreak where trust was absent at the outset. We are drifting towards a dangerous convergence of health and security policy, one that makes populations less secure and crisis management immeasurably more difficult. (Dr Sophie Harman is a senior lecturer in international politics at Queen Mary University of London)