Actualités
Ambitious new targets for HIV treatment scale-up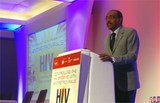 18 September 2014 - Leading academic, policy, industry and HIV community members gathered at a major AIDS summit held in London, United Kingdom, on 18 September have concurred that ending the AIDS epidemic as a global health threat is possible. Reaching this goal, participants agreed, will demand effective use of available tools, including ambitious new targets for HIV treatment scale-up.
The summit, Controlling the HIV Epidemic with Antiretrovirals: Avoiding the Cost of Inaction, is an annual event hosted by the International Association of Providers of AIDS Care, in partnership with the British HIV Association, Public Health England and UNAIDS.
During a high-level panel discussion moderated by Lord Fowler, a British Member of Parliament, particular attention focused on the potential of ambitious new targets for HIV treatment. Executive Director of UNAIDS Michel Sidibé gave the keynote address and stressed the need to aim high with bold targets such as the 90–90–90 target. First unveiled at the International AIDS Conference in Melbourne, Australia, this new target aims that by 2020: 90% of all people living with HIV will know their HIV status; 90% of people with diagnosed HIV infection will receive sustained antiretroviral therapy; and 90% of people receiving antiretroviral therapy will be virally suppressed.
Achieving this target would increase the proportion of people living with HIV worldwide who have viral suppression by two to three times and would lay the groundwork to end the AIDS epidemic as a public health threat by 2030. A number of countries are already on track to reach the 90–90–90 target, demonstrating the feasibility of obtaining such results.
The panel noted the importance of community engagement and leadership to reach the 90–90–90 target. They also emphasized the importance of grounding HIV testing and treatment programmes in principles of human rights and inclusivity. It was unanimously agreed that efforts to promote knowledge of HIV status and deliver HIV treatment must in all cases be voluntary. Ensuring that key populations benefit equitably from the push towards 90–90–90 will require legal and policy changes to remove discriminatory deterrents to service uptake.
During the summit, Mr Sidibé was presented with an award by the President and Chief Executive Officer of the International Association of Providers of AIDS Care, José M. Zuniga, for his "tireless leadership in our quest to end AIDS."
Quotes
"90–90–90 is about redistribution of opportunities. We need to rethink strategic information for strategic impact so we can invest where we have the maximum of people in need of antiretroviral treatment."