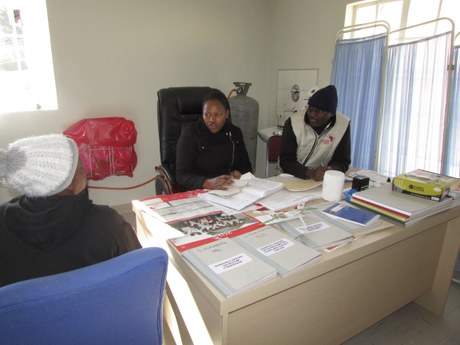 SolidarMed
Viral load measurement will become possible in Lesotho
While it has long been recommended by the World Health Organization, the vast majority of HIV patients in southern Africa have no access to affordable viral load measurement. Thus, the beneficial effects are not precisely measurable and it can come to unnoticed treatment failure.
A successful therapy is not only crucial for the patient but also contributes significantly to the prevention of new infections and to combat HIV. In a joint project between SolidarMed, the Swiss Tropical and Public Health Institute (Swiss TPH) and the Department of Biomedicine at the University of Basel, a device for measuring the viral load of HIV was installed in November 2015 Butha-Buthe.
From 2016, all patients in Butha-Buthe District should therefore receive at least annually a viral load measurement to monitor their treatment.
Despite the many challenges of the project the following result would be preferable: 
Most patients will be identified as being virally suppressed and can now feel motivated to continue taking their ARVs to keep the virus from multiplying. The chances that they can infect their partners or unborn children (during pregnancy, delivery or breastfeeding) is now very low. However more importantly, those patients who are thus identified as having treatment failure (the virus is multiplying) can be identified and supported through counselling sessions to develop an adherence plan such that they improve the intake of their medication. (Photo: SolidarMed)