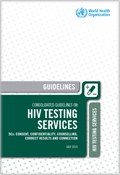 HIV-Testung
Guidelines on HIV testing services
World Health Organisation - The Consolidated guidelines on HIV testing services bring together existing guidance relevant to the provision of HIV testing services (HTS) and addresses issues and elements for effective delivery of HTS that are common in a variety of settings, contexts and diverse populations.
Recent estimates report that only 51% of people with HIV know their HIV status. In order to reach the UN 90 –90 –90 goals it is critical that HIV testing services be strategically expanded to diagnose as many people with HIV as early as possible.
This fact sheet includes data on HIV testing services reported by countries to the Global AIDS Response Progress Reporting (GARPR) (WHO, UNAIDS, UNICEF) as of July 2015.
Read more...