News
With Budget Cuts Looming Again, Can PEPFAR Keep the Gas on its Acceleration Strategy?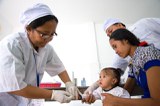 Center for Global Development (CGD) - "PEPFAR has long enjoyed bipartisan support on the Hill. It has a strong reputation as an initiative that pursues and achieves results, pushing the envelope among US government actors in using epidemiological program monitoring and costing data to inform its funding and programming decisions. Yet, it has not been spared from significant cuts in President Trump's latest budget request for foreign aid.
It is noteworthy that this administration's three successive budget requests have proposed increasingly large cuts to PEPFAR's funding. The FY2018 request proposed an 11 percent reduction from the previous year's enacted spending level, while the FY2019 request included a cut of 16 percent. Both were soundly rejected by Congress.
The newly released FY2020 request goes even further, aiming to cut State's global health funding (by-and-large PEPFAR) by 25 percent (or $1.4 billion), compared to FY2019 enacted levels." (Photo: CDC Global/flickr, CC BY 2.0)