News
The problem with patents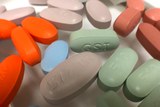 Frontline AIDS - "Commitments to HIV and universal health coverage are being undermined in middle-income countries. A joint blog by Othoman Mellouk, International Treatment Preparedness Coalition (ITPC), and Matteo Cassolato, Frontline AIDS.
Last week global health agencies set out their commitment to accelerate countries' progress on health-related Sustainable Development Goals (SDGs) in the Global Action Plan for Healthy Lives and Well-being for All.
The Plan rightly acknowledges that one of the key drivers of health inequities is limited access to medicines. It's also encouraging that the Plan promotes development of 'global good access practices' to address this problem.
However, the Plan fails to address an important issue, which, unless addressed, will seriously undermine the achievement of health commitments, in particular in middle-income countries. The issue is patents." (Photo: Antiretroviral Drugs to Treat HIV Infection/NIAID/flickr, CC BY 2.0)