News
The Global Fund: where next?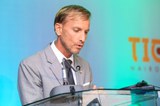 The Lancet Global Health Blog - "The Global Fund to fight AIDS, Tuberculosis and Malaria is still searching for a permanent Executive Director to replace Mark Dybul, whose new post at Georgetown University was announced last week.
The question going forward is what the new leader's priorities and vision, and the role of the Global Fund, should be in the next 10 years, and what the leader can offer uniquely in experience and institutional capacity.
Here are a few thoughts." (Photo: Mark Dybul/World Bank Photo Collection/flickr, CC BY-NC-ND 2.0)