News
Study identifies serious gaps in treatment and care of HIV-positive adolescents in sub-Saharan Africa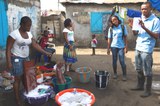 www.aidsmap.com - "Healthcare providers in sub-Saharan Africa are struggling to provide services for HIV-positive adolescents, investigators report in the Journal of the International AIDS Society. Facilities in 23 countries, which collectively provide care to over 80,000 adolescents (defined as 10-19 years) participated in the study.
Four major service limitations or challenges were identified by the researchers:
Mechanisms to support adherence and retention in care.
Service gaps, especially transitioning from paediatric to adult care.
Poor integration of sexual and reproductive health services.
Insufficient disaggregation of health outcome monitoring data by age.
"This multi-country situational analysis provides key insights into the status of HIV treatment and care services for adolescents in sub-Saharan Africa," comment the authors." (Photo: UNMEER/flickr, CC BY-ND 2.0)