News
Russia faces HIV epidemic with 1 million positive cases; Kremlin blames moral lapses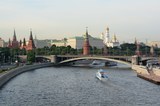 ABC- "Russia has reached a shocking milestone, with over 1 million people officially registered with HIV.
The Kremlin's ultra-conservative approach to the crisis, however, is drawing sharp criticism from people at the forefront of the battle to contain the disease, who say it is fuelling the epidemic.
(...) Infection rates in Russia are growing at over 10 per cent a year. AIDS experts are worried, and the hospitals are overwhelmed.(..) There is not enough money for medicine. The department ran out entirely earlier this year, and currently only has enough to treat one third of the thousands of patients. (...) Of the 850,000 surviving cases of HIV across the country, only about a quarter are receiving treatment. In the Moscow region alone, 7,000 people have died.
Government health warnings blame moral lapses. Under President Vladimir Putin, Russia has been returning to its morally guarded past. The Kremlin's approach to fighting HIV is simple: 'Family, fidelity and faith'. (...) The Kremlin has banned sex education in schools and teachers who mention sex or HIV to children under the age of 15 can be punished. (Photo: Alex F/Flickr)