News
Refocused Global Fund starts to hit key populations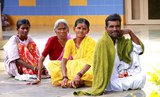 www.aidsalliance.org - "A successful community-driven India HIV/AIDS Alliance programme that provided critical services to nearly 500,000 members of key population groups has had to close. What impact are recent decisions by the Global Fund to fight AIDS, Tuberculosis and Malaria going to have on the lives of key populations?
This month sees the fifth replenishment conference for the Global Fund taking place in Québec, Canada. The Fund provides more than 20% of global funding for HIV/AIDS, with 95% of that funding coming from donor countries.
Pledges are currently coming in to meet a goal of US$13bn set to fund 2017-2019 programmatic work.
We know the money is there for ending AIDS. What is lacking is the political will.
However, Javier Hourcade Bellocq, Head of Influence at the Alliance secretariat, warns that even with this goal reached – and it is far from certain that it will be – it is insufficient to set the world on the path needed to achieve the United Nations' declaration to end AIDS by 2030." (Photo: Pepe Pont/flickr)