News
READY to Lead: 5 questions for International Day of the Girl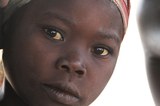 www.aidsalliance.org - "More than 90% of adolescent girls that enter the workforce in the next decade in developing countries will work in the informal sector, where low or no pay, abuse and exploitation are common. This vicious cycle traps adolescent girls and young women in poverty and leaves them vulnerable to HIV.
As the world marks International Day of the Girl under the theme With Her: A Skilled GirlForce, we speak to mentor Audrey Nonsenga from Zimbabwe Young Positives (ZY+) on the transformative power of peer support.
1. When an adolescent girl finds out she is HIV positive, the chance she will blame and stigmatise herself are high. How can this be avoided?
If you get comprehensive psychosocial support at all levels, and you understand your status yourself, you will be able to move on from that state of mind of being a victim, of being someone with a loss of self-esteem. Once we do away with that shell then we are able to move on to how you, as an individual, can be empowered with the right information to make good decisions about your future." (Photo: Steve Evans/flickr, CC BY-NC 2.0)