News
Novartis must end 'bullying tactics' over life-saving medicines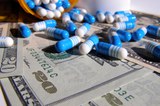 STOPAIDS - "Swiss multinational Novartis yesterday faced international calls from an alliance of health campaigners for an end to its 'threats, lies and bribes' towards governments over access to life-saving medicines, on the eve of the company's AGM in Basel, Switzerland which took place today.
Protest actions  took place at Novartis offices in the UK, South Africa and Malaysia demanding the company respects the right of governments to use legal mechanisms to make essential medicines more affordable. It follows the recent leaking of threatening letters Novartis sent to the Colombian government over the price of a leukemia drug in 2016.
The letter leaked by Public Eye show Novartis' then-CEO writing to the President of Colombia in 2016 to stop the government from exercising its legal right to make a leukemia drug affordable. Novartis had previously priced the drug, imatinib, sold by Novartis as Glivec, at $15,000 (£11,000), twice the average person's income in Colombia.
The scandal is the most recent evidence of the undue pressure that governments face when trying to tackle unaffordable medicine prices charged by big drug companies. Under international trade rules, developing country governments have a legal right to break the patent monopoly held by drug companies over a medicine in the public's interest." (Photo: Chris Potter/flickr, CC BY 2.0)