News
Myanmar's HIV patients shunned despite progress in treatment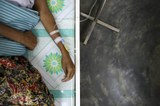 Thomson Reuters Foundation, Yangon - "Shortly after Cho's husband passed away at his parent's home his family called to tell her he had died of AIDS and said she should get tested. Cho vividly remembers rushing to a clinic in the sweltering heat to get a blood test. She breathed a sigh of relief when it came out negative.
But then she started losing weight and began falling ill more often. In September, the former market stallholder went for another HIV test. It was positive. (...)
"Now you can get ART in government-run hospitals in many states and regions," MSF doctor Soe Yadanar said ahead of World AIDS Day on Dec. 1.
Yet the stigma faced by people living with HIV lingers." (Photo: A HIV-positive patient receives medicine through an intravenous drip at Medecins Sans Frontieres Holland's clinic in Yangon March 3, 2014. REUTERS/Minzayar)