News
HIV/AIDS in 2016 and Beyond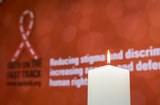 JAMA - "Overshadowed by the Zika epidemic, concerns about terrorism and security, and the US presidential election, the global HIV/AIDS pandemic persists, with 2.1 million new HIV infections and 1.1 million deaths worldwide in 2015.
The 21st International AIDS Conference in Durban, South Africa, in July highlighted the remarkable progress since 2000, when the conference was last held in Durban and very few people in Africa received antiretroviral therapy. The recent conference aimed to catalyze the work that remains—further scientific advances, addressing stigma, discrimination and other structural barriers within society, and securing the political commitment, including financial resources for prevention, diagnosis and treatment. (...)
Progress against HIV/AIDS is invariably a story of both good and bad news, and the conference reports were no exception. The good news was predominantly about preexposure prophylaxis (PrEP) and progress toward an AIDS vaccine.
The concerning news was primarily about the epidemic's stubbornness. Unlike the situation with children, the annual number of new HIV infections among adults has leveled off. After declining from 2.7 million in 2000 to 1.9 million in 2010, new infections plateaued at an estimated 1.9 million annually through 2015.
Two-thirds of new HIV infections are in sub-Saharan Africa.  No Vaccine exists and until the number of new HIV infections among adults again starts to decrease, ending the pandemic is wishful thinking." (Photo UNAIDS)