News
Georgetown researchers find link between Global Fund support and better governance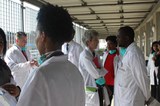 Friends of the Global Fight - "In a new working paper, researchers from Georgetown's O'Neill Institute for National and Global Health Law analyzed the impact of Global Fund financing on governance and development in countries over the past decade and a half.
They found that Global Fund support improves government accountability, control of corruption, political freedoms, regulatory quality, and rule of law. They also found Global Fund financing benefits overall adult mortality and human development." (Photo: CDC Global/flickr, CC BY 2.0)
For more information, and to read the full working paper, click here.