News
First do no harm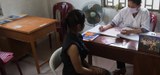 Asia Catalyst - "Discrimination in health care settings is one of the foremost barriers preventing people living with HIV and key populations from accessing critical health services. For people living with HIV, disclosure can mean they are denied surgery or treatment.
This report summarizes documented experiences of  discrimination against people living with HIV in health care settings, and  discusses the devastating
consequences for those patients in the region who are turned away by health care practitioners because of their status."