News
Eastern European and central Asian countries unite to expand access to HIV and TB treatment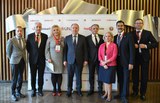 UNAIDS - "Ministries of Health from eastern Europe and central Asia adopted on 3 November in Minsk, Belarus, a consensus statement on HIV and tuberculosis (TB) treatment for all, calling for expanded and rapidly scaled-up access to affordable, quality-assured medicines.
Representatives of Ministries of Health of Armenia, Azerbaijan, Belarus, Georgia, Kazakhstan, Kyrgyzstan, the Republic of Moldova, the Russian Federation, Tajikistan, Turkmenistan, Ukraine and Uzbekistan endorsed the statement at the conclusion of a two-day regional consultation.
Governments committed to strengthen regional cooperation in order to advance access to affordable and quality medicines and deliver more cost-effective, equitable and sustainable solutions for common challenges by intensifying efforts through regional solidarity, shared responsibility and political leadership.
The statement underlines that countries are ready to use all available tools to reduce the price of life-saving medicines, address intellectual property issues and their alignment with national legislation, support the local manufacturing of medicines and optimize medicine regimens in line with World Health Organization (WHO) recommendations.
Eastern Europe and central Asia is home to the fastest growing HIV epidemic and the highest levels of multidrug-resistant TB in the world. Expanding antiretroviral therapy eligibility based on the WHO recommendations to treat people who test positive for HIV as soon as possible is expected to have significant cost implications for the HIV response in all countries of the region." (Photo UNAIDS)