News
AIDS counseling for refugees in Germany: Let's talk about sex!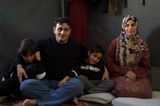 INFO MIGRANTS - "Without a dildo, but with a condom: This is sex education for refugees, conducted by refugees. InfoMigrants reports from Zirndorf on how AIDS and HIV are discussed in Germany's asylum-seeker reception facilities.
It's a common cliche to say "You can't talk to refugees about sex." Nicole Ziwitza, head of AIDS counseling in Central Franconia, has had a different experience. For 17 years she has been doing AIDS counseling in Nuremberg. For the last three years, she has been going to refugee reception facilities, with the support of the German AIDS Foundation for HIV prevention.
Once a month, she goes to the central initial admission facility in Zirndorf, near Nuremberg. Ziwitza and the interpreters from the AIDS counseling center in Central Franconia directly approach asylum seekers at the facility and invite them to the cafeteria.
Informing people about HIV prevention in Zirndorf is different from in schools or cultural facilities. She does not bring a dildo or a projector. There is also no teacher to give lectures. The asylum seekers discuss this sensitive topic among themselves, so to speak — moderated by volunteer interpreters from the AIDS counseling service, who were, or are, refugees themselves." (Photo: DFID - UK Department for International Development/flickr, CC BY 2.0)