News
2016 High-Level Meeting on Ending AIDS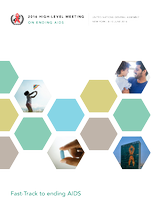 UNAIDS - "Ending AIDS by 2030 is an integral part of the Sustainable Development Goals (SDGs), which were unanimously adopted by United Nations Member States in 2015.
The lessons learned in responding to HIV will play an instrumental role in the success of many of the SDGs, notably SDG 3, good health and well-being, and the goals on gender equality and women's empowerment, reduced inequalities, global partnerships and just, peaceful and inclusive societies.
To end the AIDS epidemic by 2030 will require countries to take a Fast-Track approach over the next five years. To ensure that global efforts are accelerated in this short window, the President of the United Nations General Assembly is convening a High-Level Meeting on Ending AIDS from 8 to 10 June 2016 at the United Nations Headquarters in New York. At this meeting United Nations Member States will come together to draft a new Political Declaration on HIV and AIDS."