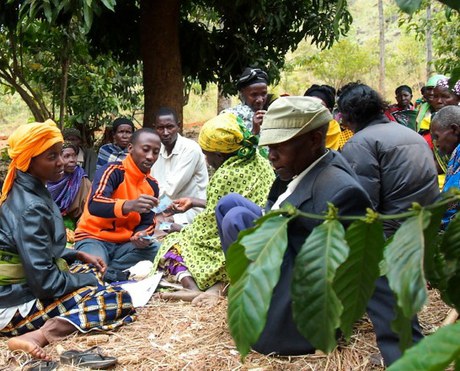 Kwa Wazee
Meeting Point 19th April 2017
Kwa Wazee/MMS/aidsfocus.ch - Meeting point with the two project managers of the new Kwa Wazee pilot 'Universal Pensions' and their first results from a new baseline survey.
Wednesday, 19th April 2017:  15.00 to 17.30, Community Centre Breitenrain, Bern
Ageing with more security, dignity and self-determination
In 2003 – with the background of a virulent HIV/AIDS-crisis – Kwa Wazee was the first organisation in Eastern Africa to support vulnerable older people and children in their care with cash transfers. From the first step of a small pension-programme, Kwa Wazee evolved to a 'learning laboratory', which aspired to test and evaluate holistic approaches to support and to protect older people and to dissemi-nate the lessons learned.
Last November a new small scale pilot programme was launched in two villages. Based on the concept of Universal (and unconditional) Pensions all older people from the age of 70 years receive a social pension. Part of the programme is a baseline survey with all participants (currently 184).
More information on the Kwa Wazee Pension Programme and the new pilot is attached.
The visitors from Tanzania have gone through all steps and phases of Kwa Wazee since it started. The meeting therefore offers the opportunity to share experience on a range of possible issues depending on the interest of the participants:
Cash transfers to most vulnerable people and what this involves.
Advocacy: methods of empowerment of vulnerable people to mutually support themselves and to adress and advocate their needs and their rights.
HIV/AIDS in a longterm perspective.
Changes in the perception of health in one focal area of rural Africa.
Particular challenges attached to the implementation of the programme.
Kwa Wazee und MMS/aidsfocus.ch invite to a professional exchange with the two project managers Edmund Revelian und Jovinary Francis from Tansania and the English consultant Mandy Heslop. The hosts while sharing their experience also hope for inputs for the current research-programme.
Looking forward to a lively discussion and exchange:
Edmund Revelian and Jovinary Francis (TZ) project managers of the new pilot 'universal pensions'  and also responsible for the Kwa Wazee Advocacy programme.
Mandy Heslop (UK) specialized for decades on studies on older people and part of the research team which monitors the pilot programme.
Stefan Hofmann, executive board (Kwa Wazee Switzerland)
For more information: Kwa Wazee: www.kwawazee.ch, aidsfocus.ch: www.aidsfocus.ch
Evening meal. Following the 'Meeting point' all participants are invited to a dinner with African food at the community centre.
Location: Community centre 'Breitschträff', Breitenrainplatz 27, 3014 Bern, right beside the tram stop Breitenrainplatz  (7 minutes with tram Nr 9 from Berne Main Station direction 'Wankdorf Bahnhof')
REGISTRATION: If you wish to participate, please send an email to info@medicusmundi.ch until Monday 17th April 2017 or register by phone: Medicus Mundi Schweiz/aidsfocus.ch 061 383 18 10.