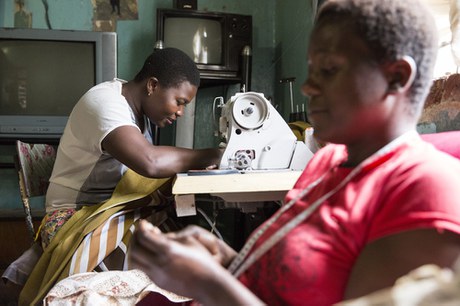 Youth
June 2015 - Topic of the month: Young, indigent, HIV-positive: A report from Zimbabwe
Zimbabwe has one of the highest HIV-rates in the world. 15 % of the population is infected. In the Newlands Clinic in Harare, which is founded by the Swiss medical doctor Professor Ruedi Lüthy, over 5500 patients are treated. Treating children and adolescents are especially challenging for the medical staff.
Memory is 15 years old and lives in a community nearby Harare - the capital city of Zimbabwe. The self-constructed huts and houses are along an unpaved road which becomes impassable during the rainy season. The people living here are very poor, however life in this illegal settlement which was constructed on former farmland seems organized: children are playing in the streets and women are doing their chores at home.
Memory's cheering smile hides her difficult story. The girl is HIV-positive and lost her mother at the age of ten to AIDS. Her father passed away even earlier. The girl is a complete orphan. Today she lives with her grand aunt who she calls "Gogo" in her mother language Shona which means grandmother. At the time when Memory's mother became too ill to look after her daughter, Memory found a new home with her "Gogo".
One million AIDS orphans
Memory's story is by far not a single case. There is an estimated one million children who are orphans due to AIDS in Zimbabwe. Many have to care for themselves or live with their relatives who often treat them badly. Memory seems to have found a caring home with her grand aunt. In front of the house there is an Avocado tree, a well secures portable water and nearby women plant beans, tomatoes and onions. However, there is no money for new cloths or for the school fees. For a few years Memory hasn't gone to school and her English isn't sufficient for a conversation about everyday things.
For four years this girl who is HIV positive since her birth has been receiving medical treatment at the Newlands Clinic. When she was 11 years old and came for the first time to the clinic, she was very ill. Today Memory is doing fine thanks to the anti-retroviral therapy. However Melania Mugamu the social worker at Newlands Clinic raises concerns that she may not adhere to the regular medication treatment. This would have devastating consequences because the virus can develop rapidly resistances and not all HIV medicines are available in Zimbabwe.
Melania Mugamu visits Memory at home to find out how she could be better supported. She is worried: "The girl has to go to school. I'm afraid that she discontinues the therapy and gets pregnant if she has no occupation." Teenage pregnancies are very common: Many young people never experience an intact family and wish nothing else then having a happy family. Others loose every hope because of their situation: Beside the stigmatization associated with HIV and AIDS the unemployment rate of over 80 % increases the lack of prospects in a country like Zimbabwe.
Creating prospects
The Newlands Clinic tries to solve these problems in different ways. The social worker visits patients who missed an appointment at the hospital. Sometimes the distance to the clinic is a problem. Sometimes difficult family circumstances or sever depression are causing the non-adherence to the treatment. In case of psychological problems, the psychologist of the Newlands clinic offers single- or group therapies. In collaboration with the local organization Africaid Zvandiri the clinic tries create work opportunities for its young HIV patients. Currently about 140 patients try to build up their own businesses as hairdresser, painter or tailor. Electricity short cuts create big challenges as well as widespread jalousie. Nonetheless, many have succeeded and regained their strength to get up every morning.
Memory is still too young to get into the program. Melania Mugamu hopes that the girl can go back to school soon and to be able to obtain a degree. This does not guarantee a prosperous future but a beginning for a better life. The young generation affected by the HIV epidemic has a lot of dreams and would love to progress in life. "In the storm we've learned how to dance" sing HIV-positive adolescents in a song produced by Africaid Zvandiri. May the never forget to dance.
Author: Janine Haas, Swiss Aids Care International / Fotos: Patrick Rohr
The Newlands Clinic is financed and managed by a Swiss foundation Swiss Aids Care International. www.swissaidscare.ch / www.facebook.com/swissaidscare