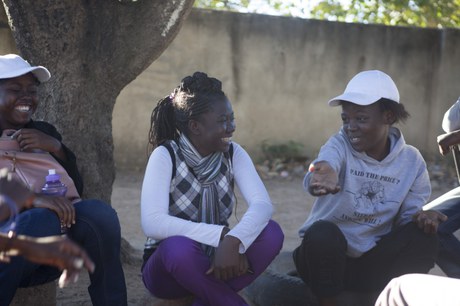 Youth
April 2019 - Topic of the Month: Leave no Youth behind
terre des hommes schweiz (tdhs) enables young people to get involved in preventing and dealing with HIV/AIDS. Experiences in the field have proved that HIV-positive young people need understanding and openness within their families, youth-orientated healthcare services and, if necessary, psychological support in order to exercise personal responsibility for their health. Using the example of their partner organisation, Million Memory Project Zimbabwe (MMPZ), tdhs demonstrates the components which are important for support aimed at young people. (Photo: Freiwillig engagierte Jugendliche von MMPZ spielen eine entscheidende Rolle bei der Arbeit mit anderen Jugendlichen / © René Fietzek).

The situation in Zimbabwe
In Zimbabwe, 25,000 people are still dying of the consequences of AIDS each year in spite of the ability to prevent the onset of the disease. The country today has 13.1 million inhabitants. Over 70% of them are living in poverty and the HDI (Human Development Index) of 0.509 ranks the country 155th in the world. With an HIV prevalence of 15%, Zimbabwe is one of the most highly affected countries in Africa. Over two thirds of Zimbabweans are under 25. The well-being of this key population group is decisive for the country's future but less than half of these young people have sufficient knowledge and competence to protect themselves from HIV.
Many young people are born with the HI-Virus
Nobuhle turned 17 a few weeks ago. She is very grateful for the fact that she was able to celebrate her birthday, and, what is more, with friends. Nobuhle is HIV-positive; she and her brother live with their grandmother in Bulawayo, Zimbabwe's second city.
Like many of her generation, Nobuhle was born HIV-positive. But she only found this out much later. "For years I have taken pills every day without realising they are to prevent the onset of AIDS. I heard about AIDS for the first time in school. My classmates told me that the pills were actually ARVs (antiretroviral drugs). I had to figure out for myself that I am HIV-positive."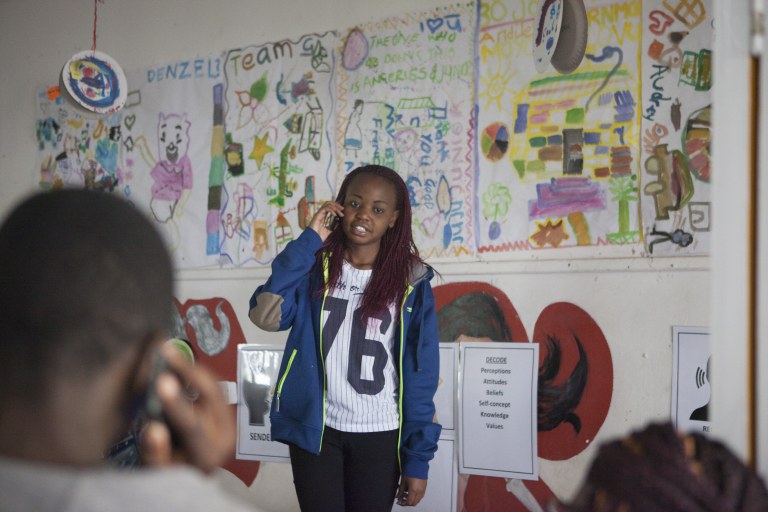 Mit non-formalen Bildungsmethoden werden Sozial- und Lebenskompetenzen der Jugendlichen gestärkt. Hier wird innerhalb eines Workshops zur Kommunikation ein Rollenspiel durchgespielt (Photo: © René Fietzek).
HIV prevention and psychosocial support are directly affiliated with the hospital
In 2005, MMPZ was founded to address such questions and to provide a safety net and support young people in this situation. The partner organisation of terre des hommes schweiz works chiefly in Mpilo Hospital, the largest hospital in the region, where around 6,000 young people per year who are HIV-positive or suffering from AIDS pick up their monthly dose of medication. The organisation is actually based in the hospital which undertakes the young people's medical treatment. MMPZ complements the hospital's work and has its core competencies in the areas of HIV/AIDS prevention and psychosocial support of young people.
HIV-positive young people very frequently suffer from stigmatisation and discrimination as well as abuse at school and in their social setting. Taboos in Zimbabwe about sexuality and HIV/AIDS also have a devastating effect on young people. For this reason, alongside sex education and psychosocial support (PSS) of young people, MMPZ also undertakes sensitising work in their environment i.e. with parents, classmates, teachers and nursing staff. This ensures that young people gain sufficient knowledge and the necessary support to maintain their treatment and protect their health. Gabriela Wichser, Head of Programmes at terre des hommes schweiz, also emphasises the significance of working with young people: "During puberty, young people go through a key phase in their lives, which is associated with uncertainty and big questions. So it is all the more important to take these questions seriously and address them in a needs-based way."
Youth-friendly medical drop-in centres and psychosocial counselling and support networks
MMPZ has designed the hospital reception area and trained its staff to be youth-friendly. "It's essential that young people in a crisis situation are welcomed with a smile and receive help straight away. Many young people who discover their HIV-status on their own lose all perspective on the future and often discontinue taking their medication. This can have devastating consequences for their health. We mustn't forget that we're not dealing with mere services. Every child here has a human right to health," emphasises MMPZ project manager Trevor Chirimambowa.
Young people like Nobuhle who are undergoing such a crisis situation are put in contact with MMPZ staff. They receive psychosocial support and counselling and are then assisted in their everyday lives. This means home visits, invitations to youth group meetings and other events ensure that young people are constantly assisted and supported. This everyday assistance is provided by young MMPZ volunteers. "We're working with around 20 young people who were previously in a similar situation," explains Mr Chirimambowa. "Today they contribute to other young people receiving help."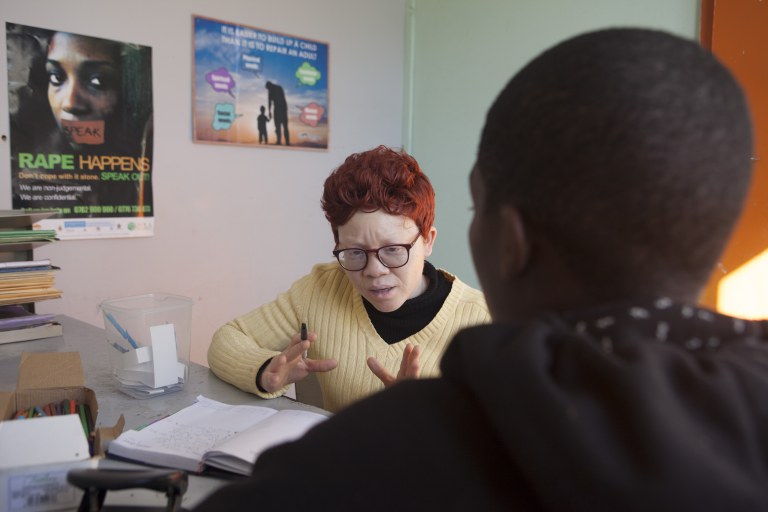 Jugendliche, die nach einem Test im Spital positiv auf HIV getestet werden, müssen eng und laufend begleitet werden. Hier berät eine Mitarbeiterin von MMPZ einen Jugendlichen (Photo: © René Fietzek).
Support from young volunteers who have experienced a similar situation
Nobuhle is one of these volunteers. She joined a MMPZ youth group a while back and, over time, has become more and more involved. Sandra Chiomvu has been a MMPZ youth worker for five years and has assisted many young people during this time. "We are frequently dealing with young people in very difficult situations. It's extremely motivating to see how much support they give each other. At the end of the day, young people's needs are very straightforward. They are looking for trust, warmth and, quite simply, a safe haven." They find all that in just under 20 youth groups organised by the volunteers throughout the city. This ensures that support is not just available but also accessible.
The volunteers are closely assisted, too, and constantly receive further training. "It's important that the volunteers recognise their limits and know when they are unable to help any further and need to call in professional help from us," says Ms Chiomvu. Usually, however, their support itself is sufficient. And the success rate of MMPZ is impressive and undoubtedly due to its approach of involving young volunteers in the work. During the project phase between 2016 and 2018, 412 young people in such crisis situations received assistance and 301 of them have been successfully encouraged to return to treatment. 111 have either moved away or died. 122 of the 301 assisted young people no longer require external help; 135 are still being assisted by young people and the day they take control of their own treatment is in sight. Of the remaining 44 extremely difficult cases, MMPZ staff members are working on reaching the children and their families."
Families and guardians of HIV-positive young people must be included
The family is the most important environment for young people. That's why successful project work must include them. Because the lack of support given by overburdened parents or guardians and the fruitless search for identity (especially at a young age) have very negative effects on the mental state of young people – and consequently also on their motivation to consistently adhere to a treatment programme. Nobuhle's story is no exception, as she explains. "After finding out I was HIV-positive I realised my parents had died of AIDS. Until then, I had believed my grandmother when she told me they had died in a car crash. I was really mad then at my grandmother and the world. I lost the will to live."
Such conflicts within families characterise young people's environments, as Cinderella Mushambi also knows well. The MMPZ employee leads workshops and seminars for the parents and guardians of HIV-positive young people. "Guardians taking in AIDS orphans are often overwhelmed by the situation. They don't know enough about HIV themselves, they make the subject totally taboo and are unable to cope with raising their grandchildren, nieces and nephews or adopted children." For this reason, MMPZ does not only work with young people themselves but also with the people in their closest environment and helps relatives to better support and assist their children.
This is why the work with parents and guardians is so important, explains Tayson Mudarikiri, National Coordinator for Zimbabwe at terre de hommes schweiz. "All our partner organisations here in Zimbabwe work within what is known as an ecological model to improve the young people's situation as sustainably as possible." This model follows the approach of working not only with the young people themselves but also with the people in their immediate environment so that they deal with them in a supportive and non-judgemental way.
Author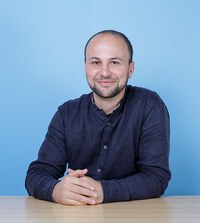 Hafid Derbal, terre des hommes schweiz, Programmcoordinator Zimbabwe and South Africa. Email