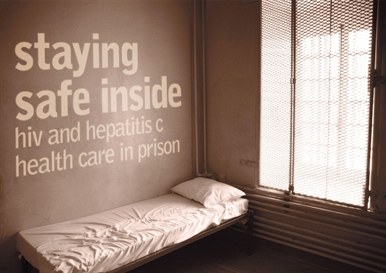 Drug users
Topic of the Month: HIV/AIDS in Prison
Without addressing the needs of key populations a sustainable response to HIV will not be achieved To date, most governments have failed to address HIV among prison populations. HIV prevention programmes are rarely made available to inmates, and many prisoners with HIV are unable to access life-saving antiretroviral treatment.
HIV prevalence in Prisons
Prisons are key points of contact with millions of individuals living with or at risk of HIV. The rates of HIV infection among prisoners in many countries are significantly higher than those in the general population. Globally, an estimated 10 million people are incarcerated per year with an annual turnover of around 30 million moving between prison and the community, with the main proportion in Russia, China and the United States. HIV prevalence within prisons is estimated to be between 2 and 10 times those of the general adult populations. For example in 2010, it was estimated that 55,000 of Russia's 846,000 inmates were infected with HIV (Reuters, 2010).
HIV Transmission in Prisons
Prisons are a high-risk environment for HIV transmission with drug use and needle sharing, tattooing with homemade and unsterile equipment and high-risk sex and rape. Overcrowding only serves to increase the spread of opportunistic infections as stress, malnutrition, drugs, and violence weaken the immune system, making HIV-positive individuals more susceptible to getting ill.
The use of contaminated injecting equipment when using drugs is one of the primary routes of HIV transmission in prisons. Within prisons it is difficult to obtain clean injecting equipment – possessing a needle is often a punishable offence - and therefore many people share equipment that has not been sterilised between uses.
In many prisons, sexual activities are common among inmates even though they may be forbidden under prison rules. The unavailability or non-use of condoms is very common. The frequency of homosexual rape in jails and prisons is extremely difficult to estimate. The victim who reports rape in prison faces a probability of further suffering and worse injury.
Although illegal in most prisons, tattooing is a widespread activity in prisons and usually is performed without fresh or sterile instruments. It involves multiple skin punctures with recycled, sharpened, and altered implements such as staples, paper clips, and the plastic ink tubes from ballpoint pens
Prison health is public health
Despite the high risk of HIV transmission within prisons, HIV prevention programmes are often not provided for inmates. Prisoners are entitled to the same human rights standards as non-incarcerated people and this includes protection from any communicable illness. This requires that everyone working in prisons understand how imprisonment affects health, what prisoners' health needs are and how evidence-based health services can be provided for everyone needing treatment, care and prevention in prison.
Medical Treatment of HIV-Infected Prisoners
Prisons and jails, designed to confine and punish people, frequently fail to provide the level of health services required by patients with HIV. HIV in prisons raises a number of issues that do not exist for the general community. HIV testing services vary between prisons and are either compulsory, optional or non-existent. The WHO recommend that prisons should provide easy access to voluntary HIV testing and counselling for inmates; this method has proven to increase testing uptake. However, confidentiality is an issue. Confidentiality of medical information in the prison setting is virtually impossible to maintain.
Prisons often have escaped outside attention to serious failures of care. Gaps in treatment occur due to transfers of inmates among correctional institutions. As with other chronic illnesses, HIV requires health services that are expensive in terms of staff effort and expertise, laboratory testing, and medication. Many prisons do not receive adequate funding from governments and so healthcare services within prisons desperately lack appropriate resources to treat HIV positive inmates.
Even in countries where drugs are readily available, relocation, adherence issues and complications within the prison system can make it difficult for HIV positive prisoners to adhere to their antiretroviral drug regimen. Court appearances, transfers among facilities, punitive detentions, and release from custody are all part of the prisoner's life, and provisions must be made to continue therapy through these events without interruption. Confiscation of all medications from prisoners is also a common practice of prison staff in the course of searches for contraband.
What needs to be done?
Worldwide, many governments have failed to address HIV among prison populations. A substantial body of evidence shows that HIV prevention measures effectively reduce HIV related risk-behaviours both within the general community and within prison populations.
Recognizing the fact that sexual contact does occur and cannot be stopped in prison settings, it vital that condoms, together with lubricant, should be readily available to prisoners.
To improve the equity of health care in these settings, consideration should be given to assigning responsibility for prison health to the ministry of health rather than the ministry of justice or interior
A peer-based, comprehensive approach increases the effectiveness of prison- based HIV education efforts
Information and education programmes about HIV and other infectious diseases are important for both prisoners and prison staff.
Special attention should be paid to the needs of prisoners after release.
Recommended HIV testing guidelines need to be followed, and prison conditions improved, in order to provide HIV-positive prisoners with the healthcare they need.
Preventing violence is the ongoing responsibility of prison staff
Exact figures do not exist, but lack of data is not a reason to stop or not initiate a response to HIV among key populations. (Foto: www.aidsmap.com).
References
WHO - Prisons and other closed settings
http://www.who.int/hiv/topics/prisons/en/
Consolidated guidelines on HIV prevention, diagnosis, treatment and care for key populations, WHO (2014)
http://www.who.int/hiv/pub/guidelines/keypopulations/en/
Good governance for prison health in the 21st century - A policy brief on the organization of prison health, UNODC, WHO/EURO (2013)
http://www.who.int/hiv/pub/prisons/prison_health/en/
HIV and AIDS in places of detention: a toolkit for policymakers, programme managers, prison officers and health care providers in prison settings, WHO (2008)
http://www.who.int/hiv/pub/prisons/detention_toolkit/en/
AIDS prevention, care, treatment and support in prison settings: a framework for an effective national response, UNODC/WHO/UNAIDS (2006)
http://www.who.int/hiv/pub/prisons/prison_framework/en/
HIV prevention, treatment and care in prisons in South-east Asia
Larney, S., Morton, P. & Dolan, K. (2007). Sydney: National Drug and Alcohol Research Centre.
The aim of the review was to gather information relating to HIV prevention, treatment and care in prisons in the WHO South East Asia region. Countries selected for inclusion in the review were India, Indonesia, Thailand and Nepal.
https://ndarc.med.unsw.edu.au/resource/hiv-prevention-treatment-and-care-prisons-south-east-asia
Youtube videos
Irish Red Cross CBHFA Prison project | Prison inmate Ryan talks about HIV awareness in prisons (2013)
Russian Prison Tattoo - Prison Documentary (2014)
---