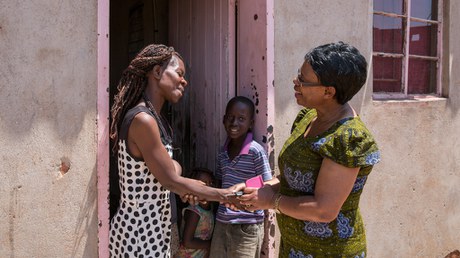 Ruedi Lüthy Foundation
Insights: Visiting patients with our social worker
Some of our patients live in the most difficult of circumstances, making it scarcely possible for them to keep strictly to their HIV treatment. Our social worker Melania Mugamu visits them in their homes to find out how we can support them better. Having her own HIV/Aids story to tell also helps.
Catching Melania Mugamu in her small office at Newlands Clinic is no easy task. Aged in her early sixties, and always ready with a warm, welcoming smile, she spends most of her time on the go. In her job as social worker, she runs group therapy sessions for patients at risk of treatment failure, counsels people currently in a particularly difficult situation, and makes home visits to patients who need special support.
An understanding ear for patients' troubles
Melania drives around the poor districts of Harare, visiting children who have lost their parents to Aids and live with their elderly grandparents, as well as young mothers scarcely able to provide for their babies and young people who see no prospects for the future. The primary objective of such home visits is to prevent people from breaking off treatment. "Sometimes it turns out that the reason for appointments being missed is the long journey to the clinic. In other cases, the patient's psychological condition is so bad that they can barely motivate themselves to continue the treatment," she says. Melania often also has to address very private issues such as poverty, abuse and violence. She makes no secret of the fact that she can have great difficulty with certain situations – for example when a small orphaned girl is passed from one relative to the next and therefore has to stop treatment at Newlands Clinic.
HIV positive herself
In tackling her difficult job, Melania can call on her own story for support and motivation: she herself is HIV positive and lost her husband to Aids in 2000. Back then there were no drugs to treat the virus in Zimbabwe. She was more fortunate, however, and although gravely ill she was able to start treatment three years later. "I had already begun to prepare myself for death," she says. But just a few weeks into the therapy she already felt much better, and half a year later was well enough to take part in her daughter's wedding.
Breaking the dangerous silence
Having been given the gift of a second life, she wants to use it to bring hope to people with HIV, and to fight against stigmatisation. "I'm fortunate in being able to break the dangerous silence about HIV as part of my work," she says. It is a long battle, one that she fights together with the team at Newlands Clinic, but Melania does not doubt for a single second that it is worthwhile. And the greatest reward she can receive for her work is when a young patient starts to take their life back into their own hands, or when a child is strong enough to go back to school. (Photo: Ruedy Lüthy Foundation)