News
World leaders are All In to end the AIDS epidemic among adolescents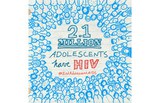 Nairobi,17 February 2015 - While major advances have been made in almost every area of the response to HIV, progress for adolescents is falling behind, said leaders in the global response to end the AIDS epidemic.
To address this inequity UNAIDS, UNICEF and partners have launched All In, a new platform for action against the adolescent AIDS epidemic. The aim of this platform is to drive better results for adolescents by encouraging strategic changes in policy and engaging more young people in the effort to fight AIDS.
Uhuru Kenyatta, President of Kenya, in the presence of a host of world leaders in Nairobi, today launched the new platform calling the initiative "a catalyst for change" and one that Kenya is proud to support.