News
WHO launches early-release guideline to expand HIV treatment and prevention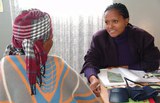 World Health Organisation, Geneva - "Anyone infected with HIV should begin antiretroviral treatment as soon after diagnosis as possible, WHO announced on September 30, 2015.
With its "treat-all" recommendation, WHO removes all limitations on eligibility for antiretroviral therapy (ART) among people living with HIV; all populations and age groups are now eligible for treatment.
The expanded use of antiretroviral treatment is supported by recent findings from clinical trials confirming that early use of ART keeps people living with HIV alive, healthier and reduces the risk of transmitting the virus to partners." (Photo © WHO)

New policies could help avert more than 21 million deaths and 28 million new infections by 2030!
Guideline on when to start ART and on PrEP for HIV