News
We have reached a defining moment in the AIDS response!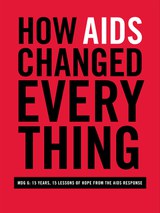 UNAIDS, 14 July 2015 - Against all odds, we have achieved the AIDS targets of Millennium Development Goal 6. AIDS changed everything. In these pages are valuable insights and ground-breaking and heart-warming experiences from the innovative and exciting work that partners, communities and countries have done and are doing in the AIDS response. There are also heart-breaking stories about the challenges that still remain.
"Fifteen years ago, AIDS was shattering families, communities and entire nations.But the AIDS epidemic also united the world behind efforts to stop and reverse the toll, and to ensure that people everywhere have access to life-saving medicines. Millennium Development Goal 6 played a central role in this massive global mobilization to scale up action against one of the most complex and devastating development challenges of our times.
The AIDS response has been like no other. From the start it has put the focus on people and put their needs first. It has been a turning point for the recognition of health as a human right. And it has brought extraordinary results on treatment and prevention alike. The world has achieved the AIDS targets of Millennium Development Goal 6. The epidemic has been halted and reversed. In the year 2000, fewer than 700 000 people were receiving antiretroviral medicines; today, some 15 million people have access, meaning that we have reached one of the most important treatment goals in history." (Foreword by Ban Ki-moon, United Nations Secretary-General)
Read the UNAIDS report "How AIDS have changed everything"...